300 Grade 12 students from Long Dien District and Vung Tau City participate in the career guidance program at BCTech
Date Submitted: 25/11/2022
Implementing the Project "Vocational education and student stream orientation in general education in the period of 2019 – 2025", from November 17 to December 8, the Provincial Youth Union and Vietnam Student Association of Ba Ria province – Vung Tau organizes a career orientation and educational stream orientation program in 2022 for students of grades 9 and 12 of high schools in the province.
Phase 2 and 3 took place on November 23 and 24, nearly 300 12th grade students from Tran Van Quan High School, Minh Dam High School, Long Hai – Phuoc Tinh High School, Tran Quang Khai High School, Vung Tau High School Train, Nguyen Thi Minh Khai High School, Vung Tau Continuing Education Center are allowed to visit Ba Ria – Vung Tau College of Technology. Here, students can visit classrooms, factories, directly experience equipment and machines under the guidance of BCTech teachers in the fields of: Electricity, electronics, mechanics gas, information technology, food processing, etc. At the same time, the contents were shared about the importance of choosing a career, the causes of choosing the wrong profession, the consequences of choosing the wrong profession; disciplines that attract human resources in the future; labor demand of Ba Ria – Vung Tau province. The school's 2023 enrollment programs, regimes, policies and job opportunities when attending college at BCTech.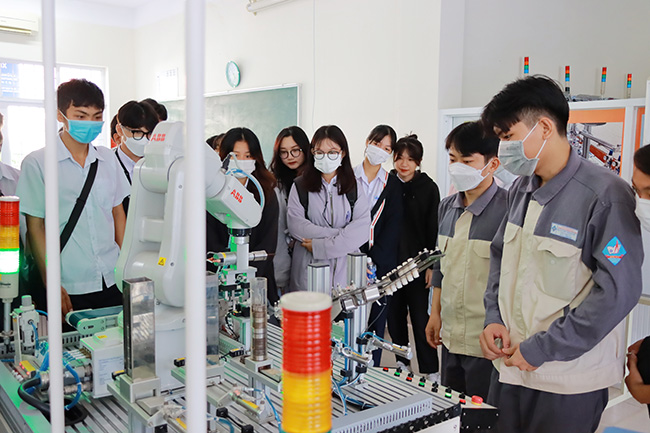 Students visit the school's factories
On this occasion, the students listened to Ms. Vo Thi Kim Hong, Head of Recruitment and Human Resource Development Department, FPT Telecom's Human Resources Department and Mr. Chung Thanh Cao, Technical Manager of FPT Telecom Vung Tau, giving career advice to them. The topic "Journey to build the future" includes the following contents: Human resources are both lacking and redundant, what businesses need, suitable careers, and career paths.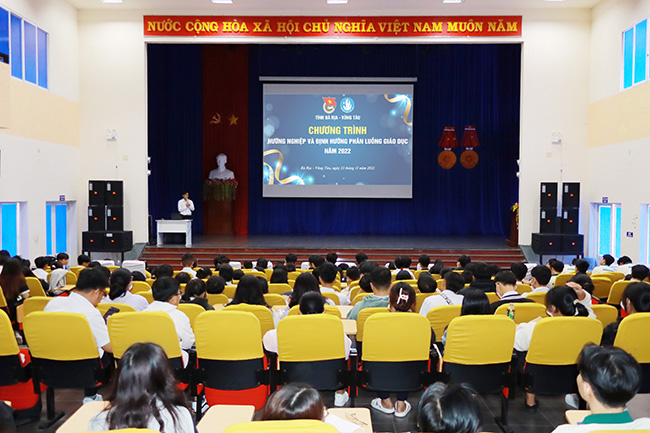 Students participate in admissions and career counseling sessions
Ba Ria – Vung Tau College of Technology currently has 2 training facilities in Dat Do district and Vung Tau city with a total area of ​​16 hectares. The university has maintained close cooperation relationships with more than 100 domestic and foreign enterprises to both train and create jobs for students. Therefore, 95% of the school's students have jobs after graduation.
In 2023, the school enrolls and trains according to the orders of enterprises with 1600 targets for full-time college and intermediate level in 14 occupations in the form of academic transcripts, of which 475 are at the qualification level. college. High school graduates go to college with a period of 2.5 years, after graduation, they can transfer to university right at the school with a period of 2 years.
High school graduates can apply for an international-level college-level mechatronics apprenticeship program under the program transferred from Australia's Chisholm Institute to receive 2 degrees (01 Australian Diploma and 01 Vietnamese associate's degree). Nam), learn English with foreigners to meet European B1 standards, practice on modern Australian-standard equipment, and study programs and textbooks of Chisholm Academy. High school graduates can enroll in a high-quality college program with many special benefits. Students are granted scholarships and rewarded according to the regime prescribed for public schools.
Admission time is divided into several installments in July, August, and September. Students can apply for admission online, apply directly at the school's admissions offices or submit documents by post.
Some pictures were recorded at the career orientation session at the school and business visit: