More than 200 students in grade 9 participated in the career guidance program at BCTech
Date Submitted: 17/12/2022
In order to contribute to a strong change in vocational education and orientation, the stream of students graduating from lower secondary school into occupations suitable to their own capacity, interests, forte and development requirements. socio-economic development in the locality, meeting the human resource needs in the province. On the afternoon of December 15, 2022, the Education and Training Department of Vung Tau city organized a career tour for more than 200 students of grade 9 of Vo Van Kiet junior high school and Thang Nhi junior high school in Hanoi. Ba Ria – Vung Tau College of Technology (BCTech).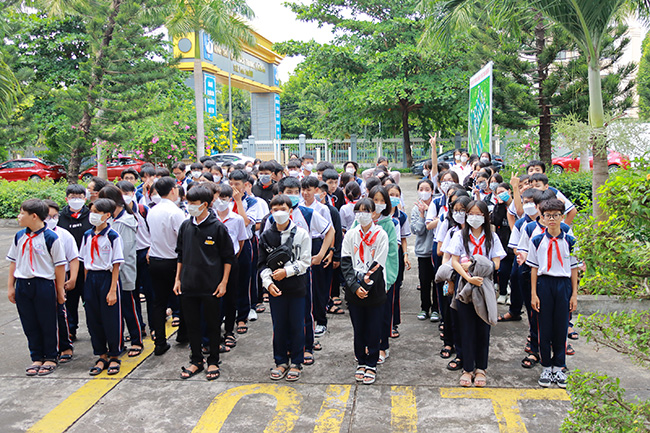 More than 200 9th graders of Vo Van Kiet Middle School and Thang Nhi Middle School visited career guidance at BCTech
Here, students can visit classrooms and factories, directly experience equipment and machines under the guidance of BCTech teachers in the fields of electricity, electronics, mechanics. gas, information technology, food processing…
Ba Ria – Vung Tau College of Technology currently has 2 training facilities in Dat Do district and Vung Tau city with a total area of ​​16 hectares. The university has maintained close cooperation relationships with more than 100 domestic and foreign enterprises to both train and create jobs for students. Therefore, 95% of the school's students have jobs after graduation.

In 2023, the school enrolls and trains according to the orders of enterprises with 1600 targets for full-time college and intermediate level in 14 occupations in the form of academic transcripts, of which 475 are at the qualification level. college, 1125 targets at the intermediate level. students graduating from lower secondary school study for an intermediate level with a duration of 2 years if only vocational training and 2.5 years if they study additional 4 subjects, after graduation, they can transfer to college with a period of time. one year. students graduating from lower secondary schools who register for intermediate education are exempted from 100% of vocational training fees.

The admission period is divided into several installments in July, August, and September. Students can apply for admission online, apply in person at the school's admissions offices or submit their application by post. .
Some pictures recorded at the career orientation program: