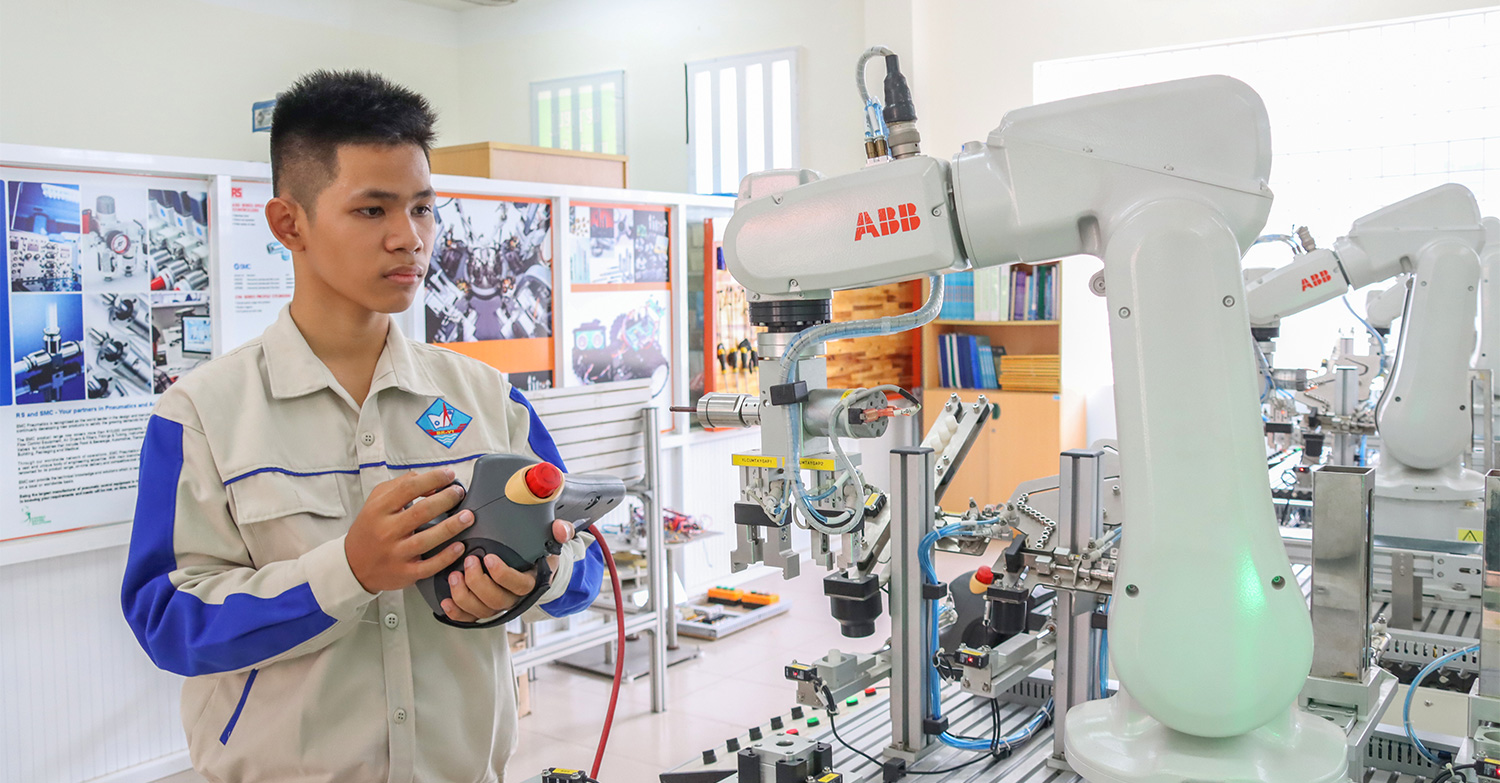 COLLEGE DEGREE
Job Code: 6520263
Training time: 3 years (6 semesters)
Forms of training: Formal
Admission form: Admission
Enrollment object: High school graduate or equivalent
Tuition: 18,700,000 VND/school year (10 months)
INTERMEDIATE
Job Code: 5520263
Training time: 2 years (4 semestrers)
Forms of training: Formal
Admission form: Admission
Enrollment object: High school graduate or higher or equivalent
Tuition: Free tuition for students graduating from secondary school to continue to high school
Mechatronics is basically a complex combination of mechanics, electronics, and informatics. However, a common feature that is recognized and is also the essence of mechatronics is the "combination of many fields to create new products with outstanding features".
Currently, the industrial revolution 4.0 has changed the way people work and connect with each other, having a strong impact on the field of mechatronics. Along with the development of modern technology and machines, robots are constantly growing in number as well as their capabilities. Robots are increasingly intelligent, taking on to replace jobs that humans cannot do, such as entering radioactive zones, rescuing people in fires… Future generations are coming to accept robots in household tasks such as house keeping, house cleaning, health monitoring… Each robot has a central processing unit (brain) (today also integrated with artificial intelligence), actuating mechanisms (hands to hold, wheels to move…), and other components. The sensing unit (sensor) records the stimulus to send to the central processing unit. Robot is a product of mechatronics profession.
Use electrical and mechanical measuring devices.

Technical drawing, autocad applies machining of mechanical parts on machine tools or CNC machines.

Programming microcontrollers, controlling electric motors in the production company's systems in practice.

Maintenance of mechanical structures, advanced maintenance of mechatronic systems and advanced programming of PLC systems.

Apply control methods: PLC programming, microcontrollers, robots, sensors, industrial communication networks in professional work.

Manage, organize and maintain industrial systems, apply computers in the process of building maintenance plans for industrial systems in companies and enterprises.

Maintenance and repair of mechanical transmission mechanisms, electrical – electronic equipment, hydraulic – pneumatic systems in the field of mechatronics.
Technicians operate electrical and electronic equipment in industrial chains.

Technicians install and connect electronic devices in industrial chains.

Technicians maintain and repair electronic equipment according to work requirements.

Officers organize and manage groups of workers in group activities.

Capable of self-employment and independent work, opening companies on installing electrical systems, as well as participating in sales related to electrical equipment…

Working in the customer care department of mechatronics equipment suppliers.

Working in the customer care department of enterprises providing mechatronic, pneumatic and hydraulic equipment.