BCTech students are honored as outstanding and typical vocational education students
Date Submitted: 06/10/2022
On the occasion of Vietnam Labor Skills Day (October 4), the Ministry of Labor, War Invalids and Social Affairs honored 100 outstanding and typical vocational education students, including Nguyen Van Trong, Mold making students of Ba Ria – Vung Tau College of Engineering and Technology were honored.
They are pupils and students with comprehensive academic and training achievements, scientific research projects that have won prizes at school level or higher, or have initiatives in learning, labor, and labor of great value. use or have patented innovative products or win first, second and third prizes in provincial competitions…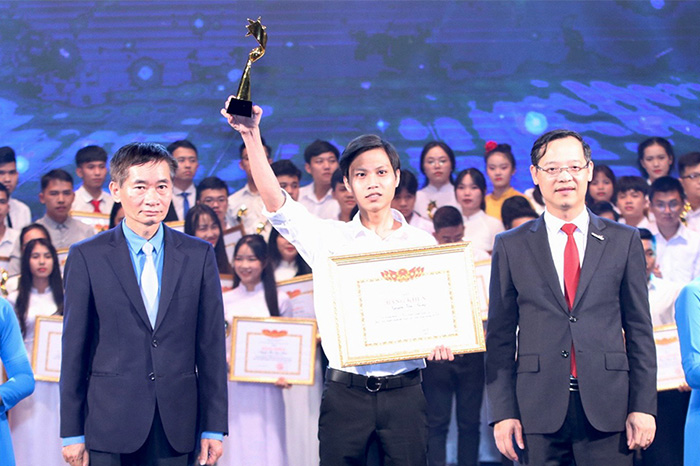 Nguyen Van Trong, a student of Ba Ria – Vung Tau College of Engineering and Technology, was honored as an excellent and typical vocational education student
Won the Third Prize of the Plastic Molding Skills Competition organized by the Russian Federation in 2021, and received a Bronze Medal Certificate of the 9th World Vocational Skills Competition of Russia. Academic achievements of student Nguyen Van Trong 90/100, excellent rating. Not afraid of difficulties and hardships, student Nguyen Van Trong of Ba Ria – Vung Tau College of Engineering and Technology constantly strives and trains to conquer the heights.
From a simple dream of just wanting to learn a sustainable profession, after graduating from Minh Dam High School (Phuoc Hung Commune, Long Dien District), Trong enrolled in the Mold Manufacturing Vocational Training at the College of Engineering and Technology. In Ba Ria-Vung Tau, Trong was surprised when he realized that vocational training was more interesting than he thought… Here, he had both learned a trade and tried his skills at vocational skills competitions…
Right from the first day of school, meeting with Mr. Le Tien Thanh – a lecturer in Mold Manufacturing, through the introduction of the discipline, and being able to directly see the machine operation process, Trong was interested in the profession.
After 3 years of studying, under the guidance of teachers, in which Mr. Thanh was a great influence on Trong's passion, creativity, as well as the spirit of inquisitiveness and self-study in some areas. Other fields to complement vocational skills become perfect, able to adapt to operate, design, and process beyond the limits of mold making… Therefore, Trong not only has technical expertise. mold making skills, but also skills in the field of CNC machining design…
Although he has not undergone any official national or international exams, in 2021 Trong will approach two competitions, namely: interacting with the Japanese team and immediately entering the challenge on the big playground – the exam. try Russia's World Vocational Skills (from July 21-23) in the content of Plastic Molding… Although it was an exchange contest, in the context of the stressful Covid-19 epidemic at that time, Trong still has to leave his family and stay to study and review at the school's workshop.
In such conditions, teachers and students both try to interact online to solve problems related to the contest. Moreover, because of social distancing, it was difficult to find and buy tools and supplies at the request of the BTC, but in the end it was still overcome. Trong's diligence and determination showed in the days of practice, especially during the 3 days of the exam with a total duration of 20 hours, performing the test at the practical workshop on the University's machinery and equipment.
Because this is a trial contest, the Russian Organizing Committee does not apply the online contest, but only based on images, design drawings and skill videos, manipulating the actual outsourcing content required by the BTC. competition. However, it was also a big pressure for Trong, because the time to approach the exam was only a day before.
Feeling about the trial competition at this big playground, Trong said: "With the result of the contest being the Third Prize with the Bronze Medal, I realized that I also had certain limitations because I did not have access to the machines. as advanced as candidates from other countries. If I can approach and practice processing on that advanced machine technology, in accordance with the type of machinery of the competition… I will have a better chance of scoring."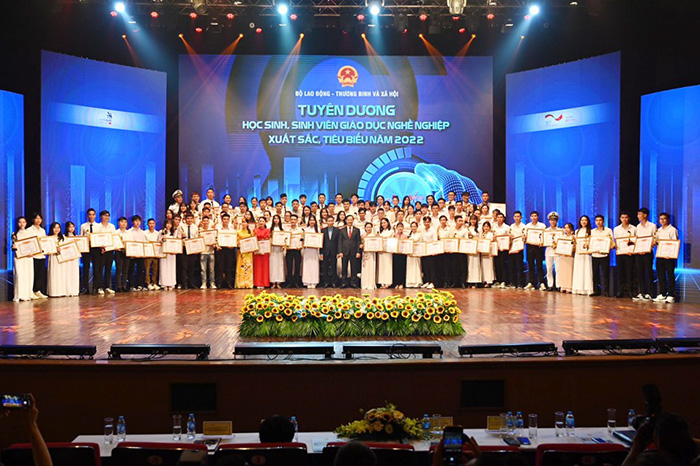 100 outstanding and typical students of vocational education and training were commended
From 2020, the Prime Minister has decided to recognize October 4 every year as Vietnam Labor Skills Day in order to encourage the spirit of innovation and creativity in the teaching work of teachers. study and practice to improve the skills and qualifications of pupils, students and employees; honoring and affirming the position and importance of skilled workers, especially those with high skills and excellent professional skills.