BCTech attracts students through innovation in enrollment and training
Date Submitted: 24/11/2022
Master Truong Huynh Nhu, Rector of Ba Ria – Vung Tau College of Technology (BCTech), affirmed that in recent years, the school has made many innovations in the organization of enrollment, training, as well as promote the encouragement of apprentices with difficult circumstances through scholarship programs…
Overcoming challenges, realizing comprehensive goals
Assessing the results achieved in the school year 2021-2022, MSc. Truong Huynh Nhu highly appreciated the efforts of the school's collective, staff, teachers, students and students who have actively innovated, Flexibility and creativity in teaching and learning.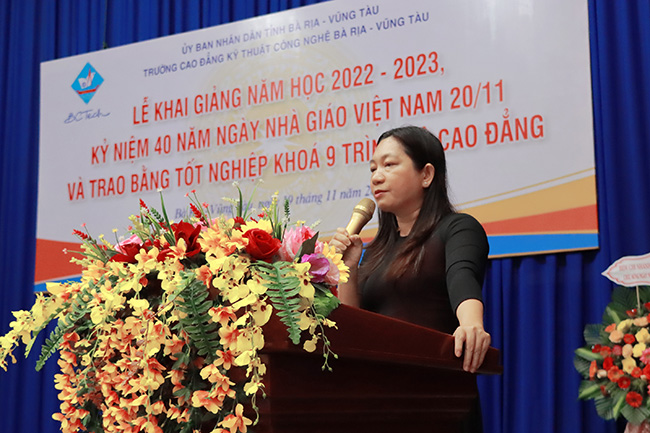 MSc. Truong Huynh Nhu, Rector of the school expressed challenges in enrollment
MSc. Truong Huynh Nhu shared: "It can be said that the school is currently facing many difficulties in enrollment, partly due to the cognitive thinking of parents who have not yet paid attention to vocational training. On the other hand, vocational students have not been given special preferential policies for vocational training in the province, while human resources with vocational skills in key occupations to meet the needs of local economic development are still in poor condition. scarcity.
In particular, high-quality human resources at college level in professions need to have special preferential policies and attractive scholarship mechanisms to attract learners with input quality from fairly good qualifications to higher. commensurate with the potential of the province located in the strong industrial economic triangle of the Southeast region".
That requires the school to make great efforts to attract recruitment sources and mobilize new graduates of middle and high schools to register for vocational training and achieve the enrollment target in 2022.
As of October 31, 2022, Ba Ria – Vung Tau College of Engineering and Technology has enrolled 1,767 students. Including: 363 college students; 1,080 intermediate students, 150 elementary students and 174 regular training students.
Focusing on improving the quality of training, training in parallel, with participatory assessment of skills of employers, creating opportunities for apprentices to learn by working, and to continue learning from intermediate to high school. Colleges and universities are the focus of the school.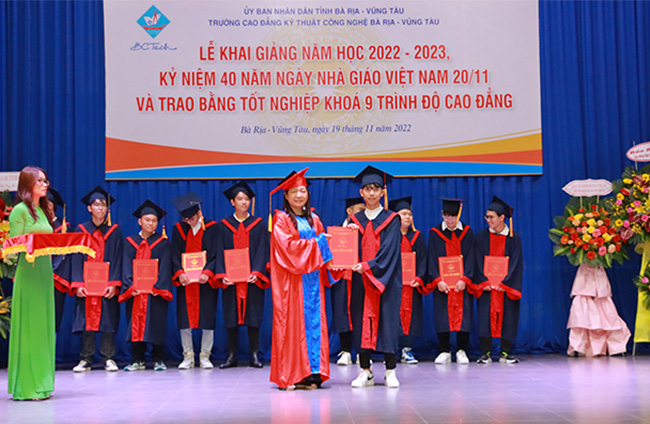 MSc. Truong Huynh Nhu, Rector of the school awarded diplomas to college students of course 9
Along with that, the teaching staff has been gradually improved and qualified according to the criteria of high-quality vocational education institutions, associated training with enterprises, and developed training services and production services. according to orders, strengthen facilities for training and production service activities. Gradually improve the quality of training. In particular, closely following the implementation of the Resolution of the Party Committee of Ba Ria-Vung Tau, the term 2021 – 2025, the school completes the criteria for high-quality vocational schools and aims to build the school to become a qualified vocational education institution. regional and international.
In the trend of training skilled human resources to ensure the integration of the domestic market and the international labor market, the school has gradually standardized and modernized the system of facilities, training equipment, standardized the teaching staff to meet the accreditation criteria of the UK, Australia, Germany and developed countries. Schools and businesses jointly participating in training and creating jobs for students and graduates have really brought results, helping learners firmly believe in their chosen profession.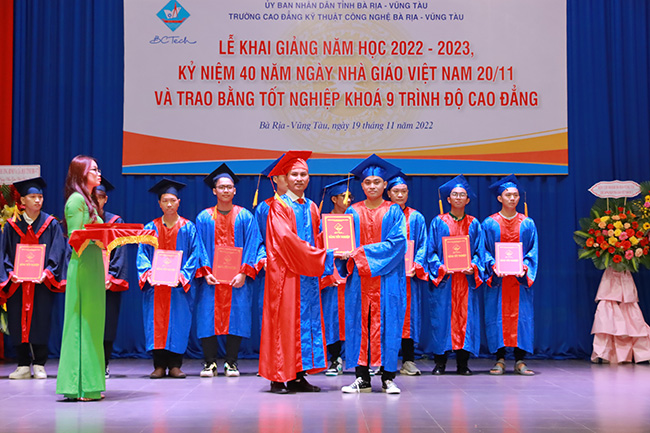 MSc. Vo Van Thuan, Vice Rector of the school awarded diplomas to college students of course 9
In the academic year 2021 – 2022, the school has cooperated with more than 40 businesses, production – business – service establishments to organize for students to come to advanced practice and production internships, ensuring 100% of students are accepted. study and practice at enterprises before graduation; cooperated with 94 businesses in recruiting and supporting jobs for students of the school. The rate of graduates having jobs at the whole university reaches 91.5%. The rate of students graduating from key occupations having a job within 6 months after graduation is 93%.
Entering the 2022-2023 school year, the school continues to innovate teaching methods, apply new teaching methods "student-centered", integrated teaching with soft skills training content, occupational safety techniques, training of industrial consciousness and manners in order to improve the capacity and professional quality of pupils and students.
Continuing to innovate teaching methods, applying new teaching methods, taking learners as the center, integrated teaching; focus on training soft skills, occupational safety techniques, training industrial awareness and manners to improve students' professional competence and quality.
Promote scholarship policy for students
In addition to taking care of cultural, sports and spiritual life for students, students have good health, the school has paid attention to and promoted socialization resources, attracted funding for building programs. establish a scholarship fund for pupils and students. Fully implement regimes and policies for students such as: consideration of tuition exemption and reduction; certifying student loans for study loans; consider giving scholarships, rewards and financial subsidies to disadvantaged students.
Last school year, the school was sponsored by 1 enterprise with a scholarship fund of 10 million VND to encourage good students and 2 businesses sponsored equipment for training. The school has granted scholarships to encourage study in the first semester of the academic year 2021-2022 for 72 students, with a total amount of 330 million VND.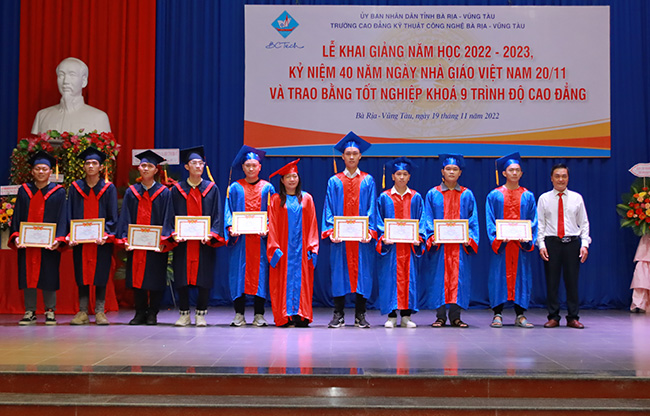 The school has supported to pay tuition fees for 01 student with extremely difficult circumstances, with the amount of 2 million VND. The school also proposed the Ba Ria-Vung Tau Study Promotion Association to offer 20 scholarships with a total amount of 80 million VND to students with difficult circumstances, achieving high results in study and training.
MSc. Truong Huynh Nhu, Rector of the school expressed his wish: "For vocational students, most of them are children of families with difficult circumstances, so the attention of the authorities at all levels Local authorities, sponsors, and "sponsor" businesses will mean a lot to them. From there, helping them feel secure to stick with vocational education, develop vocational skills, contribute benefits to the local socio-economic development".
On November 19, Ba Ria – Vung Tau College of Technology held the opening ceremony of the new school year 2022-2023, welcoming 1,767 students at all levels of training; and concurrently awarded diplomas to 156 students of course 9, college level.

+ On this occasion, the school awarded certificates of merit to 29 lecturers and 20 students with high achievements in competitions, 5 lecturers participated in guiding students in competitions with high achievements in the past school year.

+ The school's management board gives gratitude gifts to retired officials, employees and employees of the school.
Tạp chí Nghề nghiệp và Cuộc sống