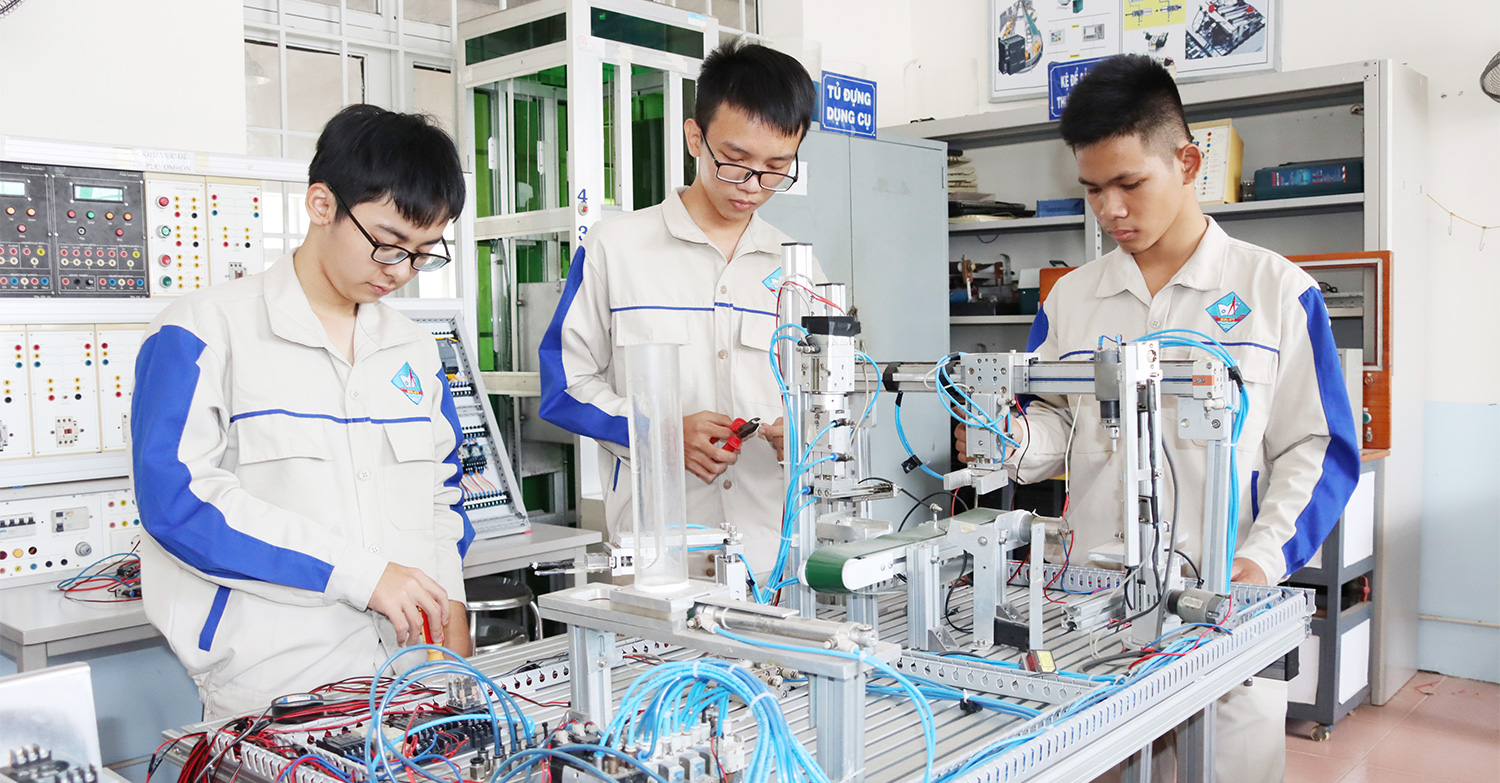 COLLEGE DEGREE
Job Code: 6520227
Training time: 3 years (6 semesters)
Forms of training: Formal
Admission form: Admission
Enrollment object: High school graduate or equivalent
Tuition: 18,700,000 VND/school year (10 months)
INTERMEDIATE
Job Code: 5520227
Training time: 2 years (4 semesters)
Forms of training: Formal
Admission form: Admission
Enrollment object: High school graduate or higher or equivalent
Tuition: Free tuition for students graduating from secondary school to continue to high school
The Industrial Electrical profession plays a role of stabilizing and developing the power transmission system to serve industrial production, agriculture, trade and service activities, and the Industrial Electrical profession designs and constructs the power transmission system. , ensure stable power transmission throughout the system, connect the production system, operate industrial electrical machines and other power-using systems. Graduates are able to:
Installation and connection of civil and industrial power supply systems.

Installation and connection of industrial signal transmission systems.

Install, connect, program and operate LPC programming equipment.

Install and test electric actuators.

Install and test pneumatic control equipment.

Operation and Maintenance of industrial electrical equipment.

Repair and maintenance of AC motors and small capacity transformers.
Design and read drawings in civil and industrial electrical systems.

Installation and use of electrical measuring instruments, operation and maintenance of the grid system.

Design and construction of civil and industrial lighting systems.

Repair of single-phase and 3-phase AC motors, transformers, installation and repair of electrical control and power cabinets systems in industry.

Design and program basic PLC systems using S7 200 and S7 300, design and install pneumatic and electro-pneumatic control systems.

Advanced PLC programming design using PLC S7 1200 or PLC S7 1500.

Install lightning protection system, automatic fire alarm system, smart lighting system, install ATS cabinet.

Repair of universal motors, AC generator systems.

Repair and install electrical circuits for machine tools such as milling machines, planers, lathes, grinders, etc…

Calculating and designing electric drive systems; have the ability to be creative, apply modern techniques and technologies to work, guide and supervise other people in the team performing the work.
Apply to companies and enterprises with industrial production activities.

Working at factories, construction, installation and power production companies.

Working at businesses, shops dealing in refrigeration and industrial electrical equipment.

Working in the management, operation and maintenance department of the industrial power network.

Specialist in operation and maintenance of industrial power networks within the company.