BCTECH enrolls 40 students in the field of Mechatronics at international college level, receiving Australian degrees
Date Submitted: 07/06/2022
In 2022, Ba Ria – Vung Tau College of Technology (BCTECH) and Chisholm Academy (Victoria State, Australia) continue to cooperate in enrolling and training 40 students of Mechatronics major at college level. international under the Australian program. Graduates are awarded 02 degrees: 01 associate degree from Vietnam and 01 diploma of Engineering Technology from Australia.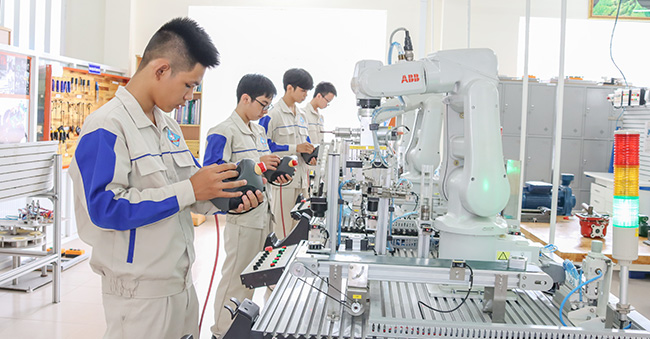 Mechatronics career with many modern Australian standard equipment for students' learning
After the success of the pilot training course in Mechatronics at the international college level under the program transferred from Chisholm Institute – Australia for 20 students in the 2016 – 2019 course, the enrollment season in 2022, The school continues to bring international standard learning opportunities right in Vietnam to 40 students at college level.
Students and students enrolled in this program at BCTECH will enjoy many benefits in terms of study costs, as well as conditions to develop professional skills, foreign language proficiency, and self-development for self-development. believe to become a "global citizen", working all over the world.
Study Mechatronics at BCTECH – an international standard environment
With the background as one of 25 vocational education institutions in the country, selected to participate in pilot training of 12 international-level occupations, according to a set of training programs transferred from Chisholm Academy, BCTECH has been approved by the Government. The government invests in the system of facilities, learning equipment, computers, miniature robot models… that meet international standards right at the school to meet the needs of mechatronics vocational training. In addition, the school sent 5 teachers to Australia to study the transfer program, acquire professional knowledge in Mechatronics and improve English language skills (including specialized English).
The 2016 – 2019 course is the first course that the school has piloted 20 students including: English and transferred mechatronics modules.
During the training process, mechatronics students are taught in English and practice on modern and synchronous equipment and facilities; a team of highly qualified English teachers. Therefore, 100% of students taking the pilot course in Mechatronics will reach English level B1 according to European standards before receiving specialized training.
In collaboration with the school, lecturers and experts from Chisholm Academy have directly come to work at the school to directly guide, inspect and supervise the training process of the school, as well as transfer technology. Advanced training for schools.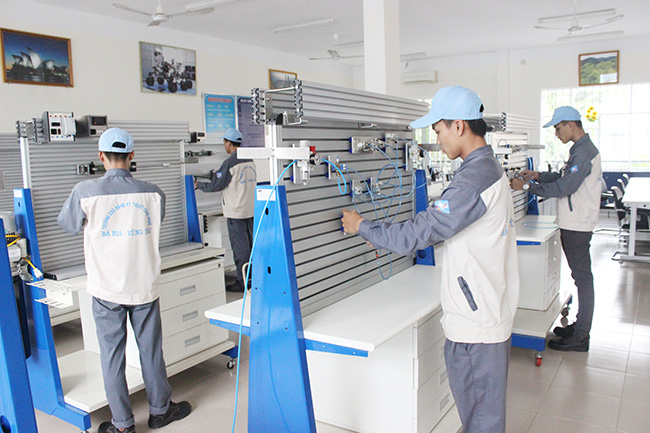 Student practicing mechatronics
Thereby, it shows that the training quality and competency profile of the school's teachers are completed, ensuring compliance with the requirements and standards of Australia. As a result of the 2016-2019 course, there are 20/20 students who have jobs immediately with a starting salary of 8-10 million VND/month, of which some students are invited by foreign businesses to work in important positions such as: shift leader, team leader, production line leader.
A representative of Hanacans Joint Stock Company (Japanese company Ba Ria – Vung Tau branch), a student recruitment unit, said: "The international students of Mechatronics class all very well meet the requirements of the company. company, they are all capable and highly disciplined at work, the company is very pleased and honored to recruit them to work".
Former student Le Van Luc, once a student studying at a University in Ho Chi Minh City, but found it unsuitable and decided to give up studying at the University. Early realizing that Mechatronics is a profession with many applications in automation, especially the changes of Industry 4.0, learning mechatronics will open up many job opportunities, as well as stimulate thinking ability. own creation.
Currently, Luc is working at Thanh Holding Investment Joint Stock Company, the position of supervisor said: "Being trained in Mechatronics in the international program at BCTECH gave me solid professional skills. Especially, at first, I was not good at English, but when I studied international programs and got a job to communicate with foreign experts, so far, I have been quite confident in communicating and working."
Opportunity to study further, work in Australia
Chisholm Academy is the leading public vocational training institute in Melbourne, Victoria, Australia. It is famous for training students with high skills and standards, ready to enter the labor market upon graduation.
According to the international cooperation program for mechatronics training between BCTECH and Chisholm Academy, instead of going abroad to study with expensive study costs, with only 80 million VND/year, students study the program. international program at BCTECH after graduation will be awarded 2 Diplomas: 1- Diploma of Engineering Technology of Australia; 2- Vietnamese College Degree.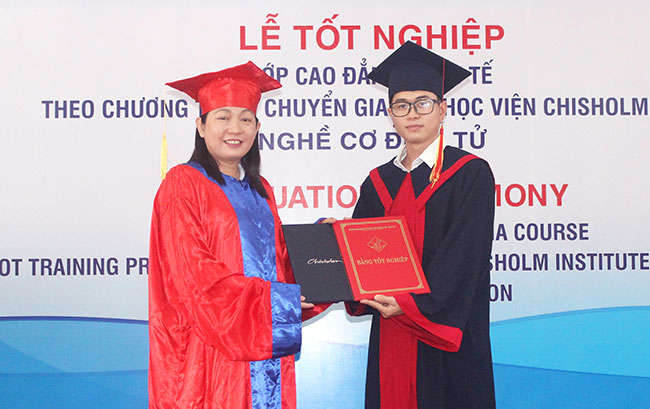 Ms. Truong Huynh Nhu, Principal of the school awarded 02 diplomas to students of Mechatronics major at international level according to the Australian program
The training level is studied 5 times in the Australian national qualification framework and the College level in the Vietnamese TVET system. At BCTECH, students learn foreign languages ​​with foreign teachers, graduating with English level B1 according to the Common European Framework of Reference for Foreign Languages (CEFR).
Besides, students are also trained in professional thinking and working style; be considered for academic scholarships according to current regulations; Priority is given to job referrals at large domestic enterprises or to work abroad.
Truong Huynh Nhu, Rector of the school shared: "Training high-quality human resources is always the top goal of the school. For students studying this program, after graduating, if they are financially and English eligible, they will continue to study at Chisholm Institute and Universities in Australia. This is the key to opening the door for interns studying this program to experience improving their vocational skills, working right in Australia and other countries around the world. When the children return to Vietnam, it means that we will receive human resources with high quality vocational skills to meet the requirements of economic development for the country.