BCTECH and SEAMEO CELLL signed a cooperation agreement on training and developing high-quality human resources
Date Submitted: 05/07/2022
On July 25, 2022, Ba Ria – Vung Tau College of Technology (BCTECH) and SEAMEO's Regional Center for Lifelong Learning in Vietnam (SEAMEO CELLL) held a Memorandum of Understanding signing ceremony. training and development of high quality human resources.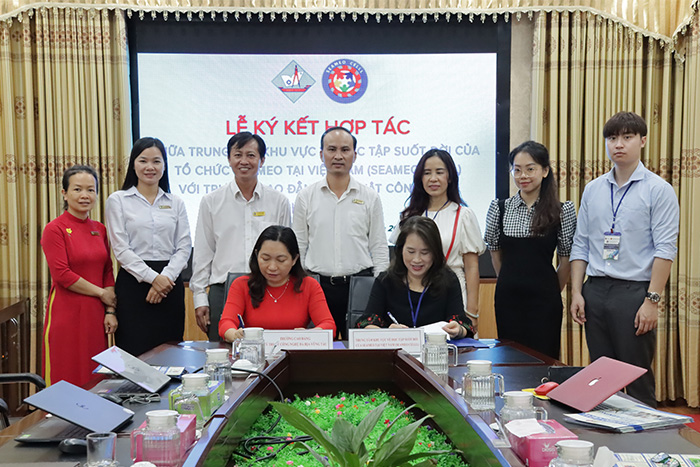 Ms. Truong Huynh Nhu, Principal of the school (left) and Ms. Le Thi My Ha, Director of SEAMEO CELLL sign a cooperation agreement
According to the cooperation agreement between BCTECH and SEAMEO CELLL, the two sides agreed to coordinate in organizing exchanges, cooperation, exchange of lecturers, students, learners and international seminars with countries in Southeast Asia. , ASEAN and countries around the world; Train and train lecturers, students and learners to meet high-quality human resources in the country and for the ASEAN region; Partnering with Cambridge's exclusive representative organization in Vietnam (VN 247 – REAP HEVOBOOKS) to develop the teaching, learning, testing and certification of international English for the program "Cambridge Linguaskill English Test and Training Standards" "Meet the output standards according to the 6-level foreign language competency framework recognized by the Ministry of Education and Training of Vietnam; Cooperating with Cambridge's exclusive representative organization in Vietnam (VN 247 – REAP HEVOBOOKS) to organize the Cambridge Linguaskill English Test scores located at the school to effectively and efficiently implement the exam and issue international foreign language certificates. economic; Cooperation in educational consultancy, career guidance, and human resource supply for organizations in need.
The cooperation program between BCTECH and SEAMEO CELL helps improve English skills for staff, lecturers, employees, pupils and students, especially fostering skills in listening, speaking, reading and writing. English for students, students meet the requirements of international integration.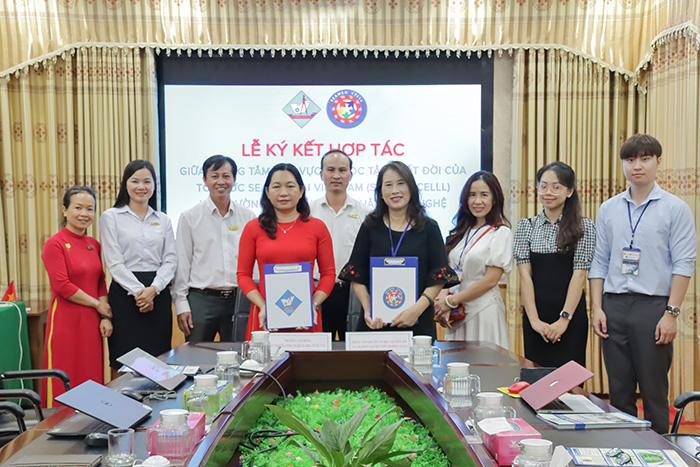 The Regional Center for Lifelong Learning of the Southeast Asian Ministers of Education Organization (SEAMEO CELLL) was established under Decision No. 1561/QD-BGDĐT dated April 23, 2012 of the Minister of Education. and Training Vietnam. The SEAMEO CELLL Center was officially recognized by the region and internationally when the Agreement was signed between the Government of Vietnam and SEAMEO on March 20, 2013 at the 5th Southeast Asian Education Ministers Conference. 47 (SEAMEC 47).

The Center was established to serve the needs of promoting lifelong learning in the region, to provide opportunities for cooperation in the field of lifelong learning among SEAMEO member states and associate members, and to support strengthen relationships and mutual understanding among the region's researchers, practitioners, and policymakers in a spirit of cooperation and mutual respect.