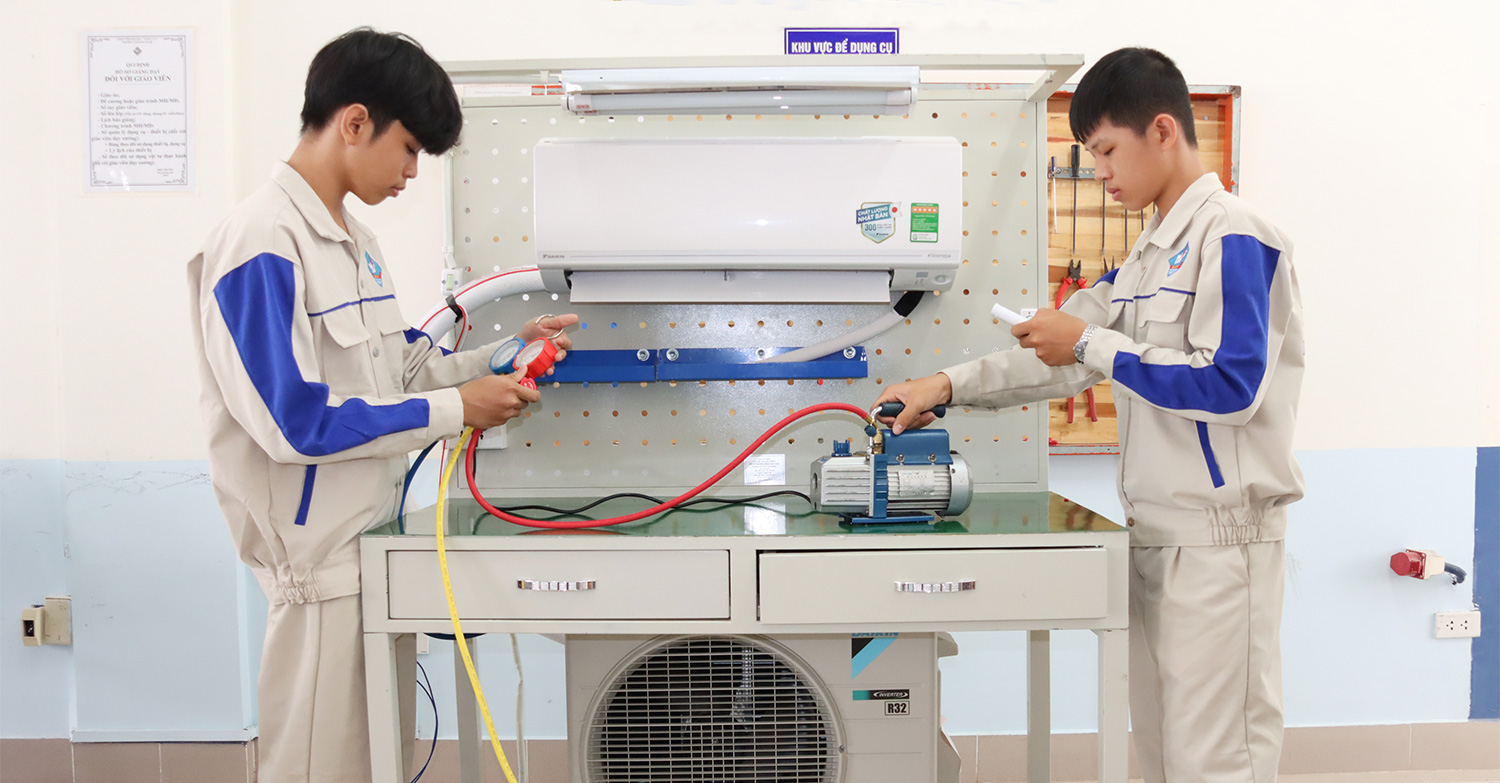 COLLEGE DEGREE
Job Code: 6520205
Training time: 3 years (6 semesters)
Forms of training: Formal
Admission form: Admission
Enrollment object: High school graduate or equivalent
Tuition: 18,700,000 VND/school year (10 months)
INTERMEDIATE
Job Code: 5520205
Training time: 2 years (4 semesters)
Forms of training: Formal
Admission form: Admission
Enrollment object: High school graduate or higher or equivalent
Tuition: Free tuition for students graduating from secondary school to continue to high school
Refrigeration systems are becoming more and more popular in modern life, from households with air conditioners and refrigerators to complex equipment in businesses such as cooling and ventilation systems, industrial air conditioner… As the economy is developing and living standards are higher, refrigeration equipment is becoming more and more popular in society. Therefore, students who learn the profession of refrigeration do not have to worry about jobs after graduation.
On the other hand, refrigeration products such as refrigerators and air conditioners are increasingly popular in households, in addition to industrial parks being developed, a series of large electronic corporations such as Samsung, LG, Daikin ,… opened a factory in Vietnam. Since then, the demand for human resources for Refrigeration and Air Conditioning Engineering (also known as Refrigeration) in companies and industrial parks is very high. 100% of students studying this major have jobs with high income from 6 to 9 million VND/month.
Install and operate industrial, commercial and civil air conditioning systems to ensure safety, meet technical requirements, and effectively save raw materials and fuel.

Install and operate local air conditioning systems, central air conditioners to ensure safety, meet technical requirements, achieve efficiency, save raw materials and fuel.

Maintenance and maintenance of refrigeration systems, automobile air conditioning systems, installation and operation of VRV/VRF systems to ensure safety, technical requirements, efficiency, and saving of raw materials and fuel.

Check the technical parameters of the equipment system, equipment, specialized input materials.

Repair of mechanical, electrical and refrigeration failures in refrigeration systems.

Repair common failures of electronic controls in refrigeration systems.

Calculating refrigerating load, selecting, designing, and installing preliminarily the refrigeration system of air conditioners and air conditioners with small cooling capacity;

Assessment of the environmental impact of refrigerants and factors affecting the environment when performing the jobs of the Refrigeration and Air Conditioning Technician profession.
Maintenance staff, maintaining refrigeration systems of hotels, high-rise buildings, companies, industrial parks, supermarkets, …

Design, supervision, construction and installation of air conditioning systems, civil electromechanical systems and large projects at domestic and foreign companies and corporations specializing in air conditioning.

It is possible to open your own company for calculation, design and installation of civil and industrial air conditioning systems.