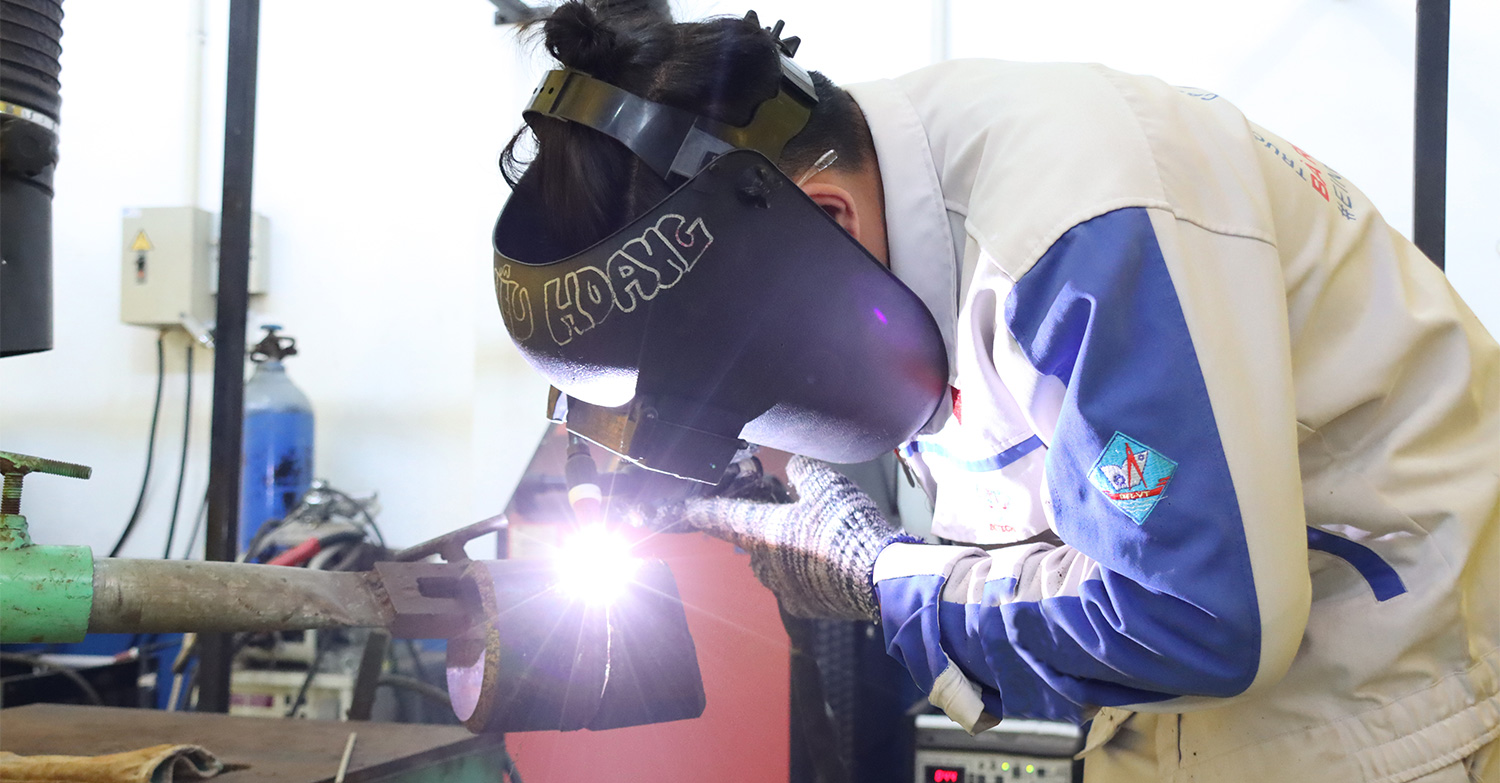 COLLEGE DEGREE
Job Code: 6520123
Training time: 3 years (6 semesters)
Forms of training: Formal
Admission form: Admission
Enrollment object: High school graduate or equivalent
Tuition: 18,700,000 VND/school year (10 months), 70% tuition discount
INTERMEDIATE
Job Code: 5520123
Training time: 2 years (4 semesters)
Forms of training: Formal
Admission form: Admission
Enrollment object: High school graduate or higher or equivalent
Tuition: Free tuition for students graduating from secondary school to continue to high school
Currently, in Vietnam as well as in the world, the demand for Korean human resources is at a very high level. According to statistics of the General Department of Vocational Education, welding personnel occupies the highest position in terms of employment rate after training, reaching 92.5%. According to statistics of Ba Ria – Vung Tau College of Engineering and Technology, the percentage of Korean students and graduates who have jobs is almost 100% with a starting salary of 6 to 9 million VND/month. Every year, businesses come to the school with the number of recruiting human resources for welding up to 400-500 people/year, but the number to meet that demand is very low. Many of you are still studying in school, but businesses have been recruiting and having jobs since the second year. Not only in the country, the Korean labor market in the world such as Korea, Japan, Taiwan … also has great demand. With good remuneration, especially Ba Ria – Vung Tau, there are many businesses operating in the fields of oil and gas rigs, shipbuilding, construction, and mechanical engineering, so choosing a Korean apprenticeship does not worry about job shortages. .
Operating manual arc welding machines, MIG/MAG welding machines; TIG welding machine; automatic welding machine under the drug layer.

Performing welds using Robotic Welding technology.

Carry out the welding according to the ISO international standard process; AWS; ASME.

Inspect and evaluate weld quality according to international standards.

Construction and welding of metal structures such as ship hull welding.

Construction and welding of tank structure.

Construction and welding of the base structure of the oil and gas rig.

Construction and welding of technological pipe systems.
Career opportunities for metal-welding apprentices after graduation are very open, can open their own welding workshop or take on positions such as production team leader; Workshop technicians; professional lathes, welders, millers in enterprises, open factories in large product manufacturing fields such as:
Oil and gas industry.

Shipbuilding industry, high-speed rail train.

Aircraft industry.

Petrochemical and chemical industry.

Hydroelectricity and thermal power industry.

Cement industry.

Bridge and tunnel industry.

Factory manufacturing industry, truss, beams.

Industrial machinery manufacturing industry…