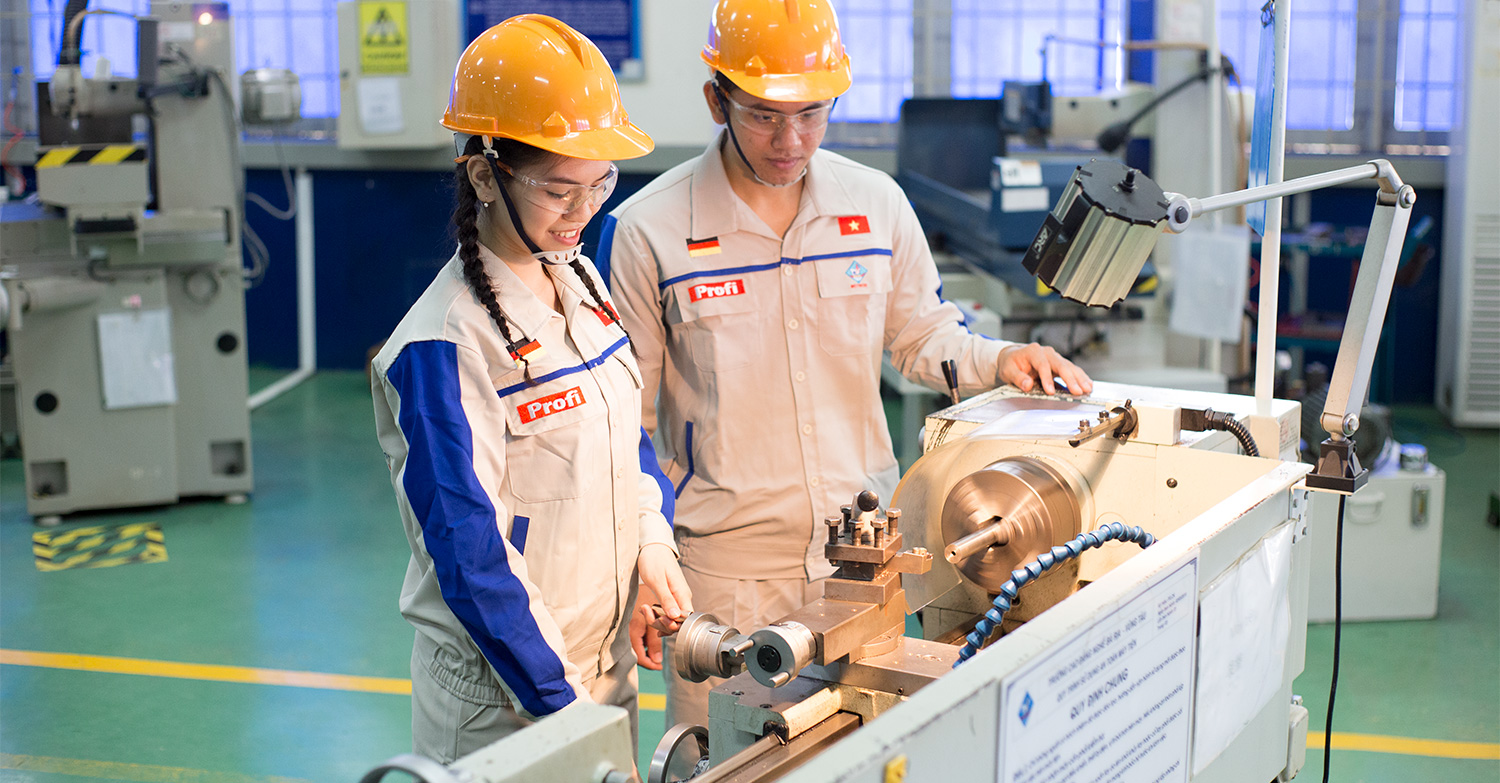 COLLEGE DEGREE
Job Code: 6520121
Training time: 3 years (6 semesters)
Forms of training: Formal
Admission form: Admission
Enrollment object: High school graduate or equivalent
Tuition: 18,700,000 VND/school year (10 months), 70% tuition discount
INTERMEDIATE
Job Code: 5520121
Training time: 2 years (4 semesters)
Forms of training: Formal
Admission form: Admission
Enrollment object: High school graduate or higher or equivalent
Tuition: Free tuition for students graduating from secondary school to continue to high school
Metal cutting is a mechanical processing process to create mechanical products, machine parts with shapes and sizes according to technical requirements from detailed drawings. This work can be done by universal processing machines such as lathes, milling-drilling machines, planers, etc. or processed on automatic machines such as CNC lathes, CNC milling machines, CNC wire-cutting machines, etc.
After graduation, learners will be able to perform skills such as turning, milling, planing and boring on a universal curved machine or CNC automatic machining machine, to fully process machine parts; or have the ability to use computers to design drawings, molds and program automatic machining on CNC machines.
Starting salary is in the range of 5-7 million VND. As for those with high skills and skilled work, the salary can range from 8 to 12 million VND.
Draw some detailed drawings, assembly drawings in accordance with technical requirements on technical drawing software and process details according to technical requirements.

Use hand-held cutting tools such as: Chisel, file flat surfaces, drill holes, cut threads with thread table, tap, hand saw.

Proficiently use one or more types of machine tools such as: universal lathe, universal milling machine, planer – slotting machine, grinding machine, drilling machine – boring machine, CNC lathe, CNC milling machine.

Use test and measurement tools.

Grind some types of turning tools, milling cutters, planers, drill bits according to technical requirements.

Detect and repair some common failure types of machines and fixtures. Maintenance of some basic technological equipment.

Processing some parts of the forming machine on a universal lathe, a universal milling machine, a planer – a slotting machine, a grinding machine, a drilling machine – a boring machine, a CNC lathe, a CNC milling machine as required.

Set up a technological process to process a product under the supervision of a technician.

Check product quality according to regulations.

Planning production and managing the implementation of the plan, implementing the 5S process.

Use basic information technology as prescribed; application of information technology in a number of professional jobs of the industry and profession.

Use basic foreign languages, reaching level 1/6 in the Foreign Language Competency Framework of Vietnam; applying foreign languages ​​to a number of professional jobs of the industry or profession.
Machining technicians on popular and common machine tools of the profession and CNC milling machines;

Technical staff in workshops, factories and companies related to the mechanical industry.

Production team leader in enterprises manufacturing, assembling, repairing and trading mechanical products.

Establishing a small and medium-sized company.