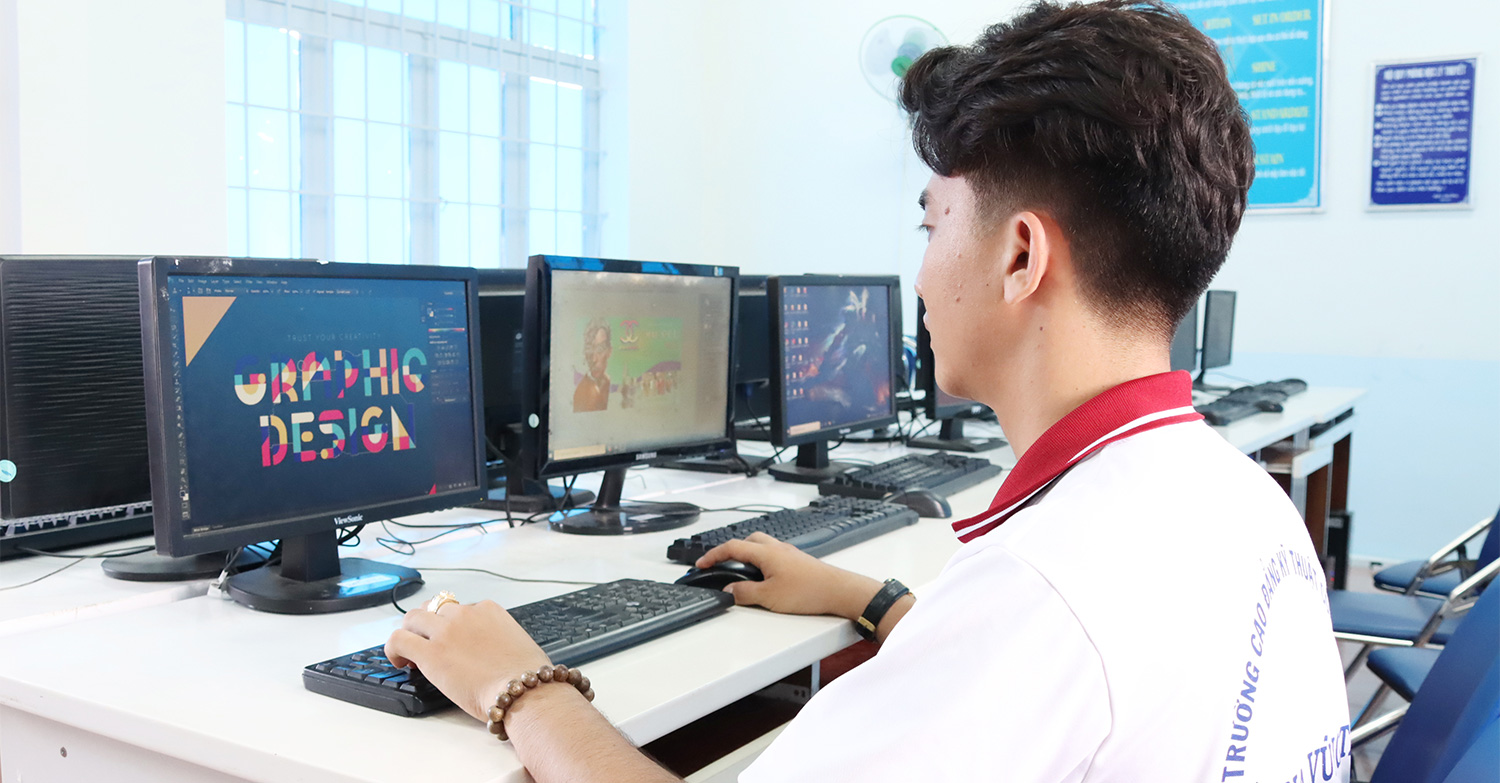 COLLEGE DEGREE
Job Code: 6210402
Training time: 3 years (6 semesters)
Forms of training: Formal
Admission form: Admission
Enrollment object: High school graduate or equivalent
Tuition: 18,700,000 VND/school year (10 months)
INTERMEDIATE
Job Code: 5210402
Training time: 2 years (4 semesters)
Forms of training: Formal
Admission form: Admission
Enrollment object: High school graduate or higher or equivalent
Tuition: Free tuition for students graduating from secondary school to continue to high school
Surely we often refer to words like "Graphic Design", "Multimedia Graphics", Multimedia Graphic Design, etc. And everywhere around us there are many products created from "Design" graphics", from shop signs, to drawings on shirts, websites… Everywhere we can see the application of graphic products.
Graphics is a field of communication in which the message is received through the visual path. Graphic design is about creating visual solutions to communication problems. In other words, graphics are a combination of art and information. And Graphic Design is an applied art form that combines images, text and ideas creatively to effectively and interestingly communicate information through print and online…
Graphic design was identified as one of the 10 hottest fields of the decade. The development trend of the media and online advertising industry has led to the "thirst" for qualified graphic design human resources, jobs with dream salaries along with the hunt and treatment of people. talent, because every company needs at least one designer.
Install and use software used in graphic design such as: 2D design software, 3D design software, 3D software, editing software, games, image and graphics processing software, software Audio and Video processing,…; Image design and image processing.

Create photo albums, logos, banners.

Advertising design.

Design brand identity, book cover, page layout, presentation of content of books, newspapers, magazines, posters.

Flash animation design, Game.

Cartoon design.

Techniques for editing movies and 3D effects, sound processing.

Create publications for different areas such as creating product labels, creating logo templates, creating business card templates or advertising.
Design specialist, design consultant at advertising agencies, design companies, media companies.

Specialist in decorating and organizing events for organizations and businesses.

Specialist in graphic design, character design, sound engineering, animation and comic studios, newsrooms, publishing houses, television agencies, and newspapers.

Set up your own business, design firms, studio or consulting services, teach at schools, centers, clubs,… Graphic design always offers attractive work-at-home opportunities such as website design, logo design, brand identity.