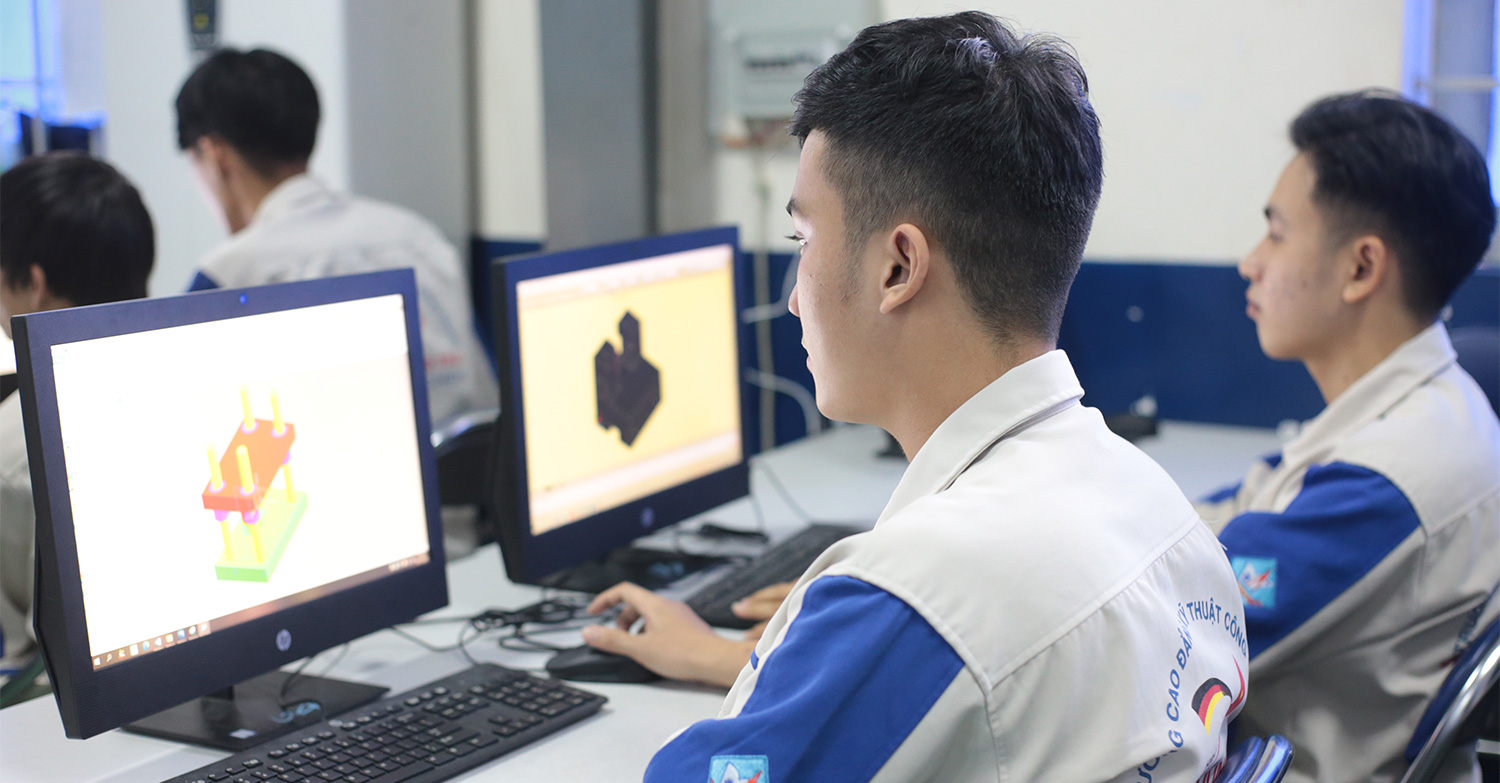 COLLEGE DEGREE
Job Code: 6480213
Training time: 3 years (6 semesters)
Forms of training: Formal
Admission form: Admission
Enrollment object: High school graduate or equivalent
Tuition: 18,700,000 VND/school year (10 months)
INTERMEDIATE
Job Code: 5480213
Training time: 2 years (4 semesters)
Forms of training: Formal
Admission form: Admission
Enrollment object: High school graduate or higher or equivalent
Tuition: Free tuition for students graduating from secondary school to continue to high school
Drawing and designing on a computer is a profession that uses CAD/CAM/CAE software installed on computers such as AutoCAD, Inventor, SolidWorks, NX, Modex 3D … to design and assemble parts/subassemblies details; calculate, simulate and analyze the physical movement of the object, the flow of plastic filling in the injection mold; setting up the processing technology process and creating product processing data for CNC machines; inspect and evaluate the quality of common mechanical products,…
Calculate limit deviation, surface roughness of details on manufacturing drawings.

Measure geometric shape deviation, non-parallel, non-perpendicular, non-coaxial, non-circular, roughness.

Draw and construct geometrical lines, lines, faces, solids, and simple objects and represent objects and axes views. Draw mechanical joints and gears, springs.

Complete drawing and reading of a basic detailed and assembly drawing in mechanical design.

Calculate the load and the binding reaction, the stable equilibrium center of gravity of the solid body. Calculates frictional forces, linear velocity, angular velocity, acceleration, tangential acceleration, and normal acceleration.

Calculate the stress, cross-sectional dimensions of the tension-compression bar, torsion shaft, flexural beam, sheared in dangerous state and safe state of the material and plot the load.

Determine the properties and uses of commonly used materials for the profession. Measure hardness HB, HRC. Heat-treated a number of tools of the profession such as steel turning knives, chisels, files…

Calculation of standard dimensions and size series in engineering. Select and use jigsaws during engineering practice.

Fully and properly prepare the necessary work before drawing and designing mechanical products.

Draw and design products after modeling.

Perform marking, metal sawing, metal filing, metal drilling, thread cutting with a thread table, tapping in the correct method and technical safety.

Process prototypes using cutting and rapid prototyping methods.

Perform inspection and re-evaluation of processed sample products.

Design simple systems to control and automate production processes in factories.
After graduation, it is possible to find jobs in companies, factories, and mechanical factories. With working positions in technical departments, responsible for drawing and designing products, supervising and manufacturing prototype products; self-employment or continue to study to a higher level.