Skilled and good at foreign languages, it is not difficult to find a job with a salary of thousands of dollars
Date Submitted: 14/08/2021
"The secret to owning a thousand-dollar salary", is the topic of a career exchange session organized by BR-VT College of Technology in collaboration with ESUHAI Co., Ltd., for students of the school last weekend.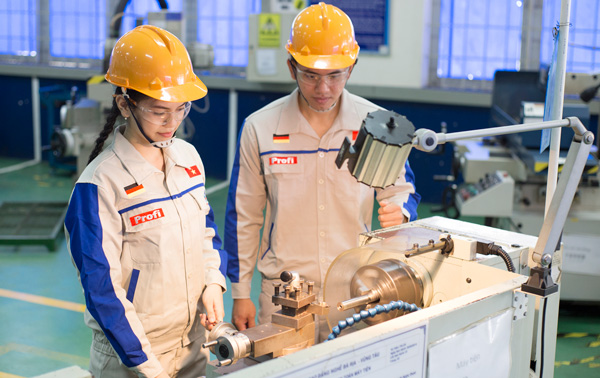 Students of BR-VT Technical College of Technology practice metal cutting
Students participated in the exchange through the online software zoom. Through this software, students can interact online with ESUHAI experts to get advice, ask and answer around the issues of preparing "baggage" so that after graduation, they can get high-quality jobs. high salary.
Huynh Khanh Loi, a student of Mold Making, BR-VT College of Technology, said: "Do students who study a trade at the college or high school level have the opportunity to earn thousands of dollars? And what do we need to prepare to be able to do that?" In addition, students also asked many questions about how to make resumes, job interview skills…
Mr. Satomura Yusuke, Assistant Director of Esuhai Co., Ltd., Vice Principal of Kaizen Yoshida School of Japanese, an expert in the field of recruitment and training, said that the opportunity to own a salary of thousands of dollars is not difficult. In the first 6 months of 2021, in Vietnam, there were a total of 7,561 recruitment applications with salaries ranging from 1,000-3,000 USD/month. In which, the salary from 1,000-1,500 USD has 3,885 applications; salary from 1,500-2,000 USD has 2,165 applications and salary from 2,000-3,000 USD has 1,511 applications.
According to Mr. Yusuke, in order to get the above-mentioned income, employees need to ensure 3 factors: foreign language ability, professional capacity and work experience. In which, foreign language ability is considered as one of the factors leading to success. Because when you have foreign language ability, job opportunities will be more open both at domestic and foreign enterprises. Having foreign language skills, being able to communicate and learn from friends and colleagues to improve professional capacity and enrich work experience.
Mr. Satomura Yusuke said that being good at foreign languages, having worked abroad and having work experience is the most suitable option for students of vocational education institutions to earn a salary of thousands of dollars. For example, for many years, ESUHAI Co., Ltd. has cooperated with BR-VT College of Technology in training soft skills, Japanese language and Japanese culture for students right in Vietnam, bringing them to Vietnam. Japanese students study and practice, then they can return to develop their careers. Most of the profiles of these students are highly appreciated by employers, helping them to achieve certain success in their work with high positions such as members of the branch executive board, human resources. Senior technicians, middle managers, skilled workers. Some of them have independently started their own businesses and have achieved certain successes with their acquired knowledge and skills.
According to a representative of ESUHAI Co., Ltd., before 2019, each year, BR-VT province had about 150 people participating in the trainee program in Japan. In which, about 20-30% are students of BR-VT College of Technology. According to the regulations of the Japanese Government, the salary for the trainee program is 28-35 million VND/month, excluding overtime. After finishing the internship program, employees can continue to work in Japan or return to Vietnam to develop their careers.
In addition to preparing documents, many students want to receive the sharing of experts to pass the interview round. Mr. Satomura Yusuke answered: "If in the application review round, the employer evaluates the candidate's foreign language ability, expertise, work experience, age, then in the interview round, the enterprise will evaluate the candidate's spirit, will to work and responsibility.The candidate must thoroughly understand the company's information, understand the company's activities, motto, goals and connect with their own goals. In addition, candidates must show the employer their spirit of wanting to work, show that they can meet the job requirements that the business is recruiting or if they do not have experience, they can show their spirit of learning effort. And especially, candidates must show employers their sense of responsibility at work."
Source: Ba Ria – Vung Tau Newspaper