Participate in vocational training, get a job right after graduation
Date Submitted: 11/09/2021
"Get a job right after graduation", is the information in the enrollment scheme of many vocational education institutions. How true is this commitment?
Students of BR-VT College of Engineering and Technology practice at Kraft of Asia Paperboard & Packaging Co., Ltd. (KOA)
Not just advertising
Sharing about the above issue, Mr. Vo Van Thuan, Vice Rector of BR-VT College of Technology affirmed: "BR-VT College of Technology guarantees outputs for students right after graduation. Committed to employment for students upon graduation is not only to attract admissions but also to guarantee the prestige and quality of the university's training. The commitment of BR-VT College of Technology has been concretized by the annual average data, about 90% of the school's students have jobs after graduation. In recent years, the percentage of students who have a job after graduation has been increasing.
To achieve this desirable rate, BR-VT College of Technology has synchronously implemented many solutions to connect labor supply and demand. One of the key solutions is to promote and diversify links and cooperation with enterprises in vocational training. Specifically, the cooperation with enterprises to organize specialized seminars for students; organize to send students to practice, practice at enterprises to help them learn practical experience, improve vocational skills and assert their own capacity in front of enterprises; invite enterprises to participate in the development, appraisal, and suggestions for training programs, curricula, and output standards; address training (orders); Invite businesses to the school to assess skills and interview to recruit students.
According to Mr. Vo Van Thuan, in 2020, the school has cooperated with 82 enterprises, production, business, trade – service establishments to organize to bring 100% of students to learn advanced practice, practice production at enterprises. before graduation. Along with that, the school cooperated with 86 businesses in recruiting students of the school, was sponsored by 16 businesses with a scholarship fund with an amount of 145 million VND, 3 businesses sponsored equipment for training.
Not only that, since 2014, the school has established an employment information system between the school and the employer on the ability to meet human resources and employers' needs to advise and recommend jobs for learners. At the same time, it helps the units that have labor demand to choose the right personnel for the job requirements.
In 2017, the school established the Department of Business Cooperation (DN) and student employment support to promote business relations and support employment for students. Recruitment information of enterprises is posted on the job introduction website and Job Fanpage of BR-VT College of Technology of the school. In addition, the school also cooperates with the Provincial Employment Service Center to update information on monthly recruitment needs to inform students, creating conditions for them to participate in job sessions organized by the Center. Every year, the school regularly organizes job counseling seminars, job interview skills training, working style training to fully equip students with skills to help students confidently work in the industrial environment. Students are consulted, shared and learned from experts on how to present their application documents, steps to prepare for job interviews, self-target orientation, and be proactive in all situations when applying for a job. Interview with business…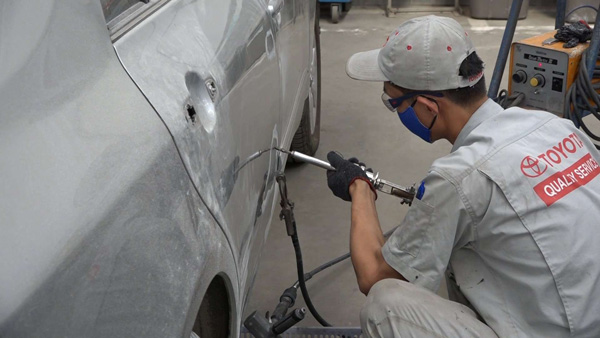 Over the years, BR-VT College of Technology has cooperated with enterprises in training and recruitment. In the photo: Students of BR-VT College of Technology practice at Toyota Vung Tau
The three parties benefit
Mr. Vo Van Thuan said that the essence of the commitment to create jobs for students after graduation is the connection between training and employment, between vocational education institutions and enterprises. In recent years, the companionship of enterprises has been identified as a breakthrough solution to increase the scale and improve the quality of vocational education. The effective linkage between enterprises and schools in vocational training will bring benefits to all stakeholders: schools, enterprises and students.
As one of the former students who have had a job since they have not graduated, Mr. Le Van Linh, Head of the Crane Team of Vina Kyoei Co., Ltd (Phu My Town) said that while still studying at the school, the school connected and created conditions for students to practice and practice at enterprises. As a result, students have practical experience, access to advanced and modern equipment and production technology of enterprises. At the same time, students are improved in practical skills, trained in industrial style, serious working attitude to have better career orientation and have job opportunities right after graduation. According to Mr. Linh, students who meet the job requirements most of them have jobs right after graduation, even recruited since they have not graduated with a decent salary because they are all high-quality workers. trained.
The association of training and recruitment helps businesses solve the problem of labor shortage, reduce costs related to personnel recruitment, access to bright candidates and select personnel that are suitable for real requirements. economic. In addition, the association also reduces the impact of fluctuations in the labor market in the long run; This is also an opportunity for enterprises to demonstrate their social responsibility, improve their position and image, and bring practical benefits such as effective exploitation of human resources, increase labor productivity, contribute to improving competitiveness, towards socio-economic development in a sustainable way…
In 2020, the rate of students and students who have jobs within 6 months after graduation will reach 90.01%; the rate of students, graduates of key occupations who have jobs within 6 months after graduation is 93.6%. In 2019, the rate of students and graduates of the whole school having a job within 6 months after graduation was 89.93%; rate of students graduating from key occupations having jobs within 6 months after graduation 92.77%…

Some typical enterprises that the university has signed for training and recruitment cooperation are: Thanh Binh Phu My Joint Stock Company (Phu My 3 Intensive Industrial Park), Esuhai Co., Ltd., Kraft of Asia Paperboard & Packaging Co., Ltd. Yoshino Gypsum Vietnam Co., Ltd., DAIKIN Vietnam, MM Mega Market Vung Tau Center, Hanacans Joint Stock Company-BR-VT Branch, Do Thanh Automobile Joint Stock Company, Khang Anh Mechanical Trading and Service Co., Ltd. , Hoang Gia Ceramic Co., Ltd…

(Mrs. Nguyen Thi My Dung, Head of External Affairs and Student Affairs Department, BR-VT College of Technology)
On the part of vocational education institutions, schools can exploit the facilities, equipment and technology of enterprises, reducing investment costs in equipment and training costs. Not only that, the school also assesses the required skills of employees, training and recruitment needs to build training plans and programs in accordance with the actual requirements of the employees. DN. The association and cooperation with enterprises helps students of the school to find jobs right after graduation. From there, it contributes to improving the prestige and brand of the vocational education institution. Mr. Kazama Toshio, Deputy General Director of Thanh Binh Phu My Joint Stock Company, the investor of Phu My 3 Intensive Industrial Park said: "Currently, it is , in the industrial park, there are many investors and employers who are students of BR-VT College of Technology. We are continuing to invite many businesses to invest, so there is a great need for high-quality labor, which BR-VT College of Technology is a reliable address."