More than 200 students from Minh Dam High School and Tran Quang Khai High School came to visit and attend the enrollment counseling session at BCTECH
Date Submitted: 23/06/2022
On the afternoon of June 23, 2022, BR-VT College of Technology gladly welcomed teachers, teachers and more than 200 12th grade students from Minh Dam High School and Tran Quang Khai High School to visit and experience practical experience and attend admission counseling sessions.
On this occasion, the students had the opportunity to visit the school's first facility in Dat Do town; observed and experienced on modern machines and equipment in classrooms and workshops.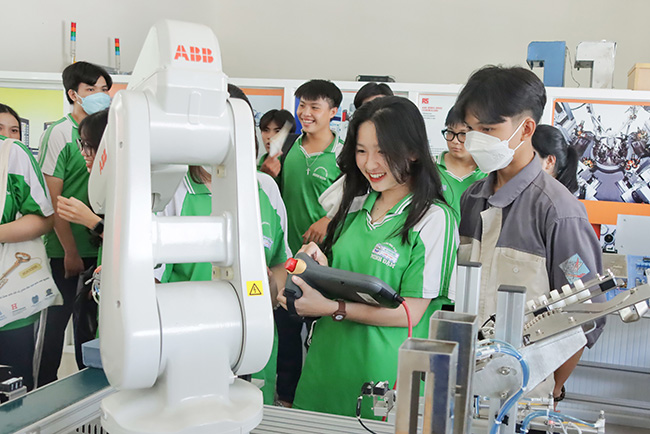 Students experience controlling mechatronics robots
At the orientation session, the students were informed by the school about enrollment programs, training professions, learners' rights and job opportunities after graduation. Accordingly, in 2022, the school will recruit and train students according to the orders of enterprises with 1495 targets for full-time college and intermediate level in 17 occupations with the form of admission examination, including 545 targets. at the college level. High school graduates go to college with a period of 3 years, after graduation, they can transfer to university right at the school with a period of 2 years.
High school graduates can apply for a Mechatronics apprenticeship international-level college level under the program transferred from Australia's Chisholm Institute to receive 2 degrees (01 Australian Diploma and 01 Associate's degree from Australia). Vietnam), learn English with foreigners to meet European B1 standards, practice on modern Australian-standard equipment, and study programs and textbooks of Chisholm Academy. High school graduates can enroll in a high-quality college program with many special benefits. Students are granted scholarships and rewarded according to the regime prescribed for public schools.
Admission time is divided into several installments in July, August, and September. Students can apply for admission online, apply directly at the school's admissions offices or submit documents by post.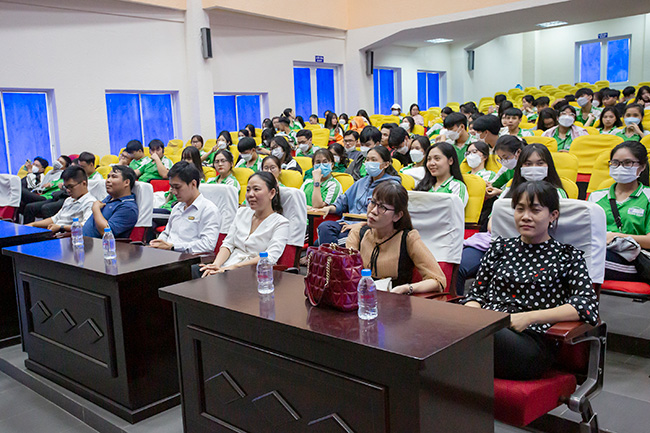 Ladies and gentlemen, teachers and students attend the enrollment counseling session
The visit helped students better understand the learning environment and the 2022 enrollment program of BR-VT College of Technology. Thereby helping students have more choices for themselves after graduating from high school.
Some pictures recorded at the visit, enrollment consultation: