Job opportunities are open for intermediate level students at BCTech
Date Submitted: 03/08/2022
Instead of 3 years of studying to go to high school, Ba Ria – Vung Tau College of Technology (BCTech) is a school for students who have just graduated from secondary school to choose to study at Intermediate level to get career skills. , go to work soon and ensure a stable job and income in the near future.
It is not necessary to attend high school:
Enrollment in the first batch for intermediate level students, in the 2022-2024 school year at BCTech there are up to 777 students graduating from junior high school who do not continue to go to high school. When choosing a school, choosing a career, many students graduating from secondary school found that their ability to study cultural subjects was still limited; or the family's economic conditions are still difficult; or the desire to get job skills early and get a job early… For these reasons, secondary school graduates soon chose a suitable and comfortable solution for themselves, choosing an apprenticeship that suits their passions. their own interests will be better when they have to study "reluctantly" with a relatively heavy amount of high school cultural knowledge compared to their ability.
With the role and task of training skilled human resources, contributing to the socio-economic development of Ba Ria – Vung Tau province, over the past time, the school's advisory and admissions committee has stepped up the work. propagandize, channelize, bring solutions to remove difficulties and barriers of parents and students at the threshold of "choosing a school, choosing a career".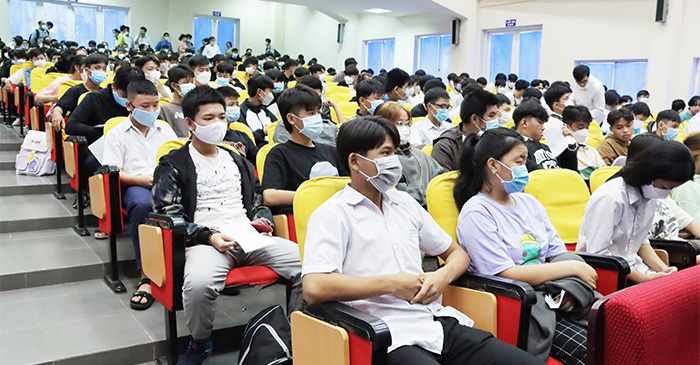 Students attend the first political activity of the course
Through counseling sessions, positive orientation in many forms of online and live livestream, organizing shuttles for students at secondary schools in Ba Ria-Vung Tau province to visit and learn about the model. vocational training at the school.
In particular, through the recruitment counseling and job introduction day held at the school, with the participation of many businesses with the need to recruit human resources in many job positions, requiring high skills. Professional expertise at the intermediate and college level is very large.
Expressing the joy of bringing her children to school, Ms. Bui Thi Huong (Xuyen Moc district) said: "The school gave me career guidance advice, I was very happy because she was very interested in mechatronics. I hope that with my passion for the profession, I will promote my abilities and meet the requirements of employers when going to work. Moreover, vocational training at the intermediate level at the school is completely free of the tuition fee, so it also helps the family to reduce a part of the difficulty in paying for their children's studies.
Shorten the distance, the volume of cultural learning
According to the training program, students attending BCTech Intermediate level only have to study for about 2 years. For students entering the 1st batch of intermediate level in the following occupations:  Industrial electricity, Refrigeration and air conditioning engineering, Mechatronics, Automotive technology, Welding, Mechanical equipment manufacturing, Information technology Information Technology (UDPM), Graphic Design, Food Processing, Food Processing Technology. The remaining occupations will be for students at Intermediate level 2, expected on August 30.
Thus, compared to their peers, the intermediate students at BCTech have soon gained vocational skills and confidently entered the labor market, shortening the gap at least 5-7 years later ( 3 ). years of high school + 4 years of university) can have a job to work.
Besides being equipped with professional skills, intermediate students are still trained by the school in 4 cultural subjects: Literature, Mathematics, Physics and Chemistry. At the end of the study program, the students have completed the recognition requirements for completing the volume of cultural knowledge, as well as meeting the vocational skills standards at the intermediate level as prescribed, they can completely continue their education. to college level in the same profession.
Nguyen Van Hung, a student who chooses to be a food processing technician, said: "I have a passion for cooking. Through job fairs at BCTech, I saw restaurants and hotels in Ba Ria-Vung Tau. always need human resources to meet tourism services. Choosing to study cooking, learning and practicing at a business early will help me promote my capacity and creativity with the chosen profession. Moreover, in the future, I will be able to work closer to home and have a stable income, which is what I want."
It is known that the total enrollment target of BCTech in 2022 is 1,495 students. In which, there are 545 students at college level and 950 students at intermediate level. For the first batch of intermediate level enrollment, the number of 777/950 students has achieved 81.7% of the enrollment target and reached 50.7% of the school's total enrollment target. This rate increased by 30% compared to the same time of the enrollment season in 2021.
On August 30, the school will organize the second enrollment period for students, intermediate and college students and by September, the school will complete the general target and reach the milestone of 1,495 students. members (school year 2022-2024).