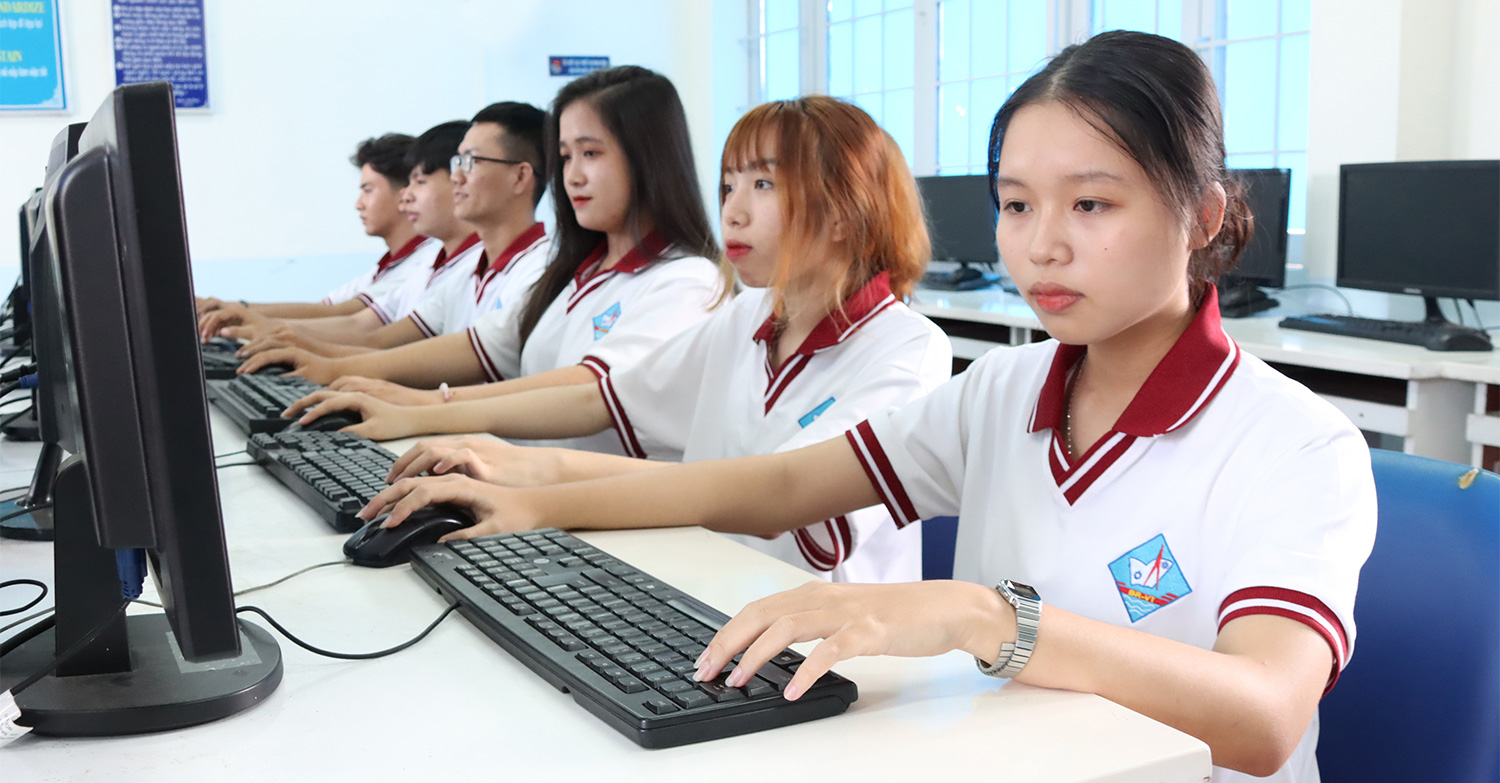 COLLEGE DEGREE
Job Code: 6480202
Training time: 3 years (6 semesters)
Forms of training: Formal
Admission form: Admission
Enrollment object: High school graduate or equivalent
Tuition: 18,700,000 VND/school year (10 months)
INTERMEDIATE
Job Code: 5480202
Training time: 2 years (4 semesters)
Forms of training: Formal
Admission form: Admission
Enrollment object: High school graduate or higher or equivalent
Tuition: Free tuition for students graduating from secondary school to continue to high school
Information technology is one of the key industries that bring about outstanding development for science and technology, especially in the 4.0 technology era. Therefore, the Information Technology industry has become a "hot" field of study and attracts a lot of young people, especially those who love computers and are passionate about technology along with a good working environment and high salary. attractive. The program is designed to provide students with the knowledge and skills to:
Install and use the Microsoft Office office suite of computing tools.

Assemble, install, repair and maintain computer systems.

Design and build a database according to the requirements and nature of the assigned work;

Exploiting applications on the network. Construction and maintenance of network systems for small and medium enterprises. Website management, email. Ensure network security.

Backup and restore data to ensure system availability.

Implement measures for industrial hygiene, fire, explosion, electrical short, labor safety;

Design and build small and medium scale management software.

Design advertisements and animated videos.

Building a complete website for commerce, news agencies, organizations and businesses.

Support, understand customer needs, advise customers, form products according to customer requirements.
Assembling and installing computers, basic programming, office informatics.

Troubleshooting computer software problems, administering computer network systems.

Build and administer Access and SQL Server databases.

Application graphic design, Flash animation design, Web site design.

Programming Windows Form interface software, PHP & MySQL web application programming.

Building and processing databases, managing the Linux open source operating system.

WPF application programming, ASP.NET MVC web programming, advanced PHP web programming, web programming with Laravel Framework.

Apply modern techniques and technologies to work, guide and supervise others in the group to perform work.
Employees maintain, assemble and distribute computers and informatics equipment in computer trading enterprises, computer equipment manufacturing companies.

Outsourcing and software development programmers for application software development companies.

Graphic designer and web designer for companies specializing in Websites.

Specialist in advertising and film design for advertising agencies.

Working as an IT technician for informatics centers, primary schools, secondary schools, vocational training institutions, administrative agencies, and businesses operating in the field of computer software.