German experts test the ability of international level welding and metal cutting students
Date Submitted: 12/03/2022
On March 7, 2022, Ba Ria – Vung Tau College of Engineering and Technology welcomed Mr. Dirk Lange and Mr. Alexander Schafer, experts from Avestos Training Group, Germany to test the students' ability and support them. International level training assistant for welding and metal cutting according to the program transferred from Germany.
Experts will work at the school from March 7, 2022 to March 18, 2022 with the following contents: inspecting equipment and training materials; check teaching progress; inspection of labor hygiene and safety; guide teachers to develop lesson plans and test and evaluate methods; guiding the use of books and forms according to German regulations; guide lecturers and students to prepare for the graduation exam part I; visit enterprises where students practice, check teaching methods at enterprises; attend class evaluation time; Answer questions and questions asked by the school during the training process.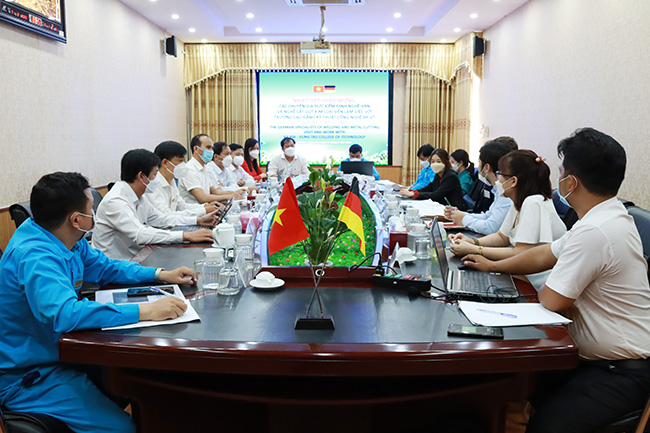 Overview of the working session between experts and school leaders, lecturers of the two pilot classes
Two international-level welding and metalworking college classes are pilot classes, according to a joint program of the General Department of Vocational Education and Training Group Avestos of Germany. The program has been enrolled by BR-VT College of Engineering and Technology since 2019. During the training period, students are equipped with knowledge and skills according to German standards, must achieve the qualification. at least B1 foreign language according to the European frame of reference or equivalent before the end of the course. After graduating, students will be awarded 2 degrees: 1 degree from Germany (equivalent to Level 4/5 according to the German National Qualifications Framework) and 1 regular diploma issued by the College of Engineering and Technology. BR-VT level; have the opportunity to participate in the international labor market, especially in Germany and European countries or large enterprises in Vietnam.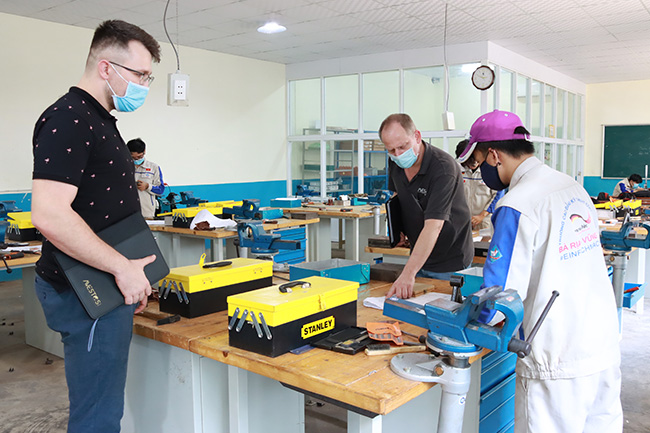 Experts talk to students of advanced welding
Experts expressed their pleasure to see the efforts of the school leaders, lecturers and students of the two pilot classes in the past time despite being affected by the COVID-19 epidemic. Experts see that the pilot training program is having good results and are ready to support the home to make the program a success.
Some pictures recorded during the work of experts at the school: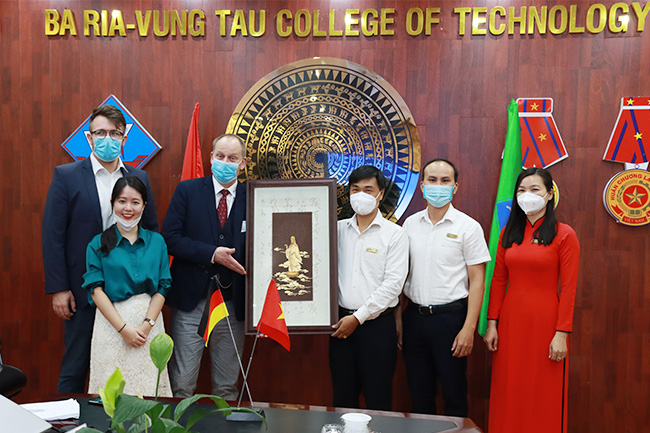 Experts take souvenir photos with the School Board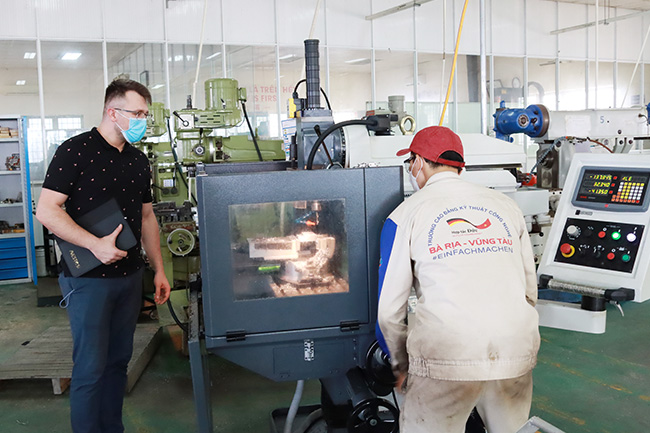 The expert observes the students performing the exam on the milling machine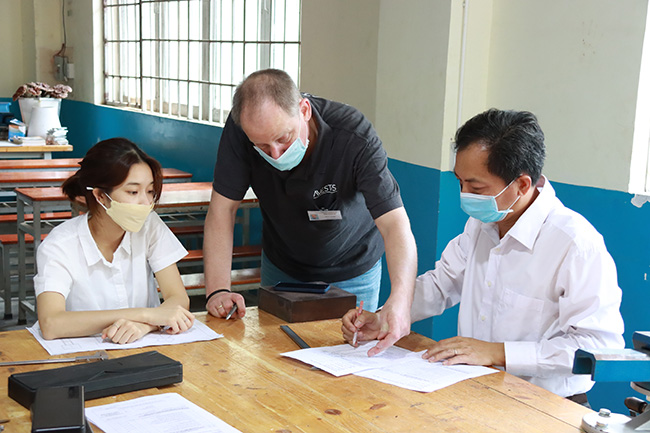 Experts guide teachers to mark exams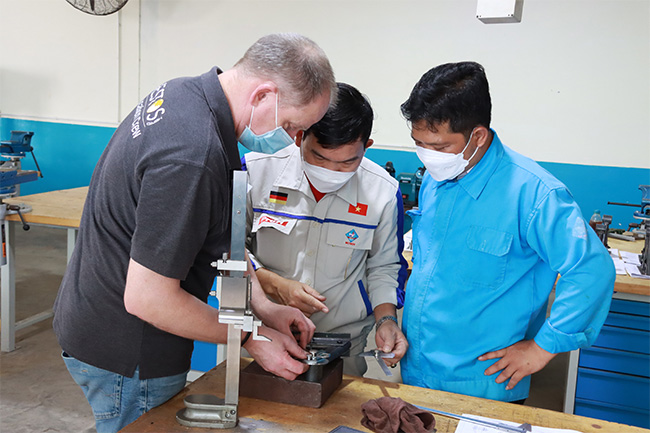 Experts and lecturers measure the test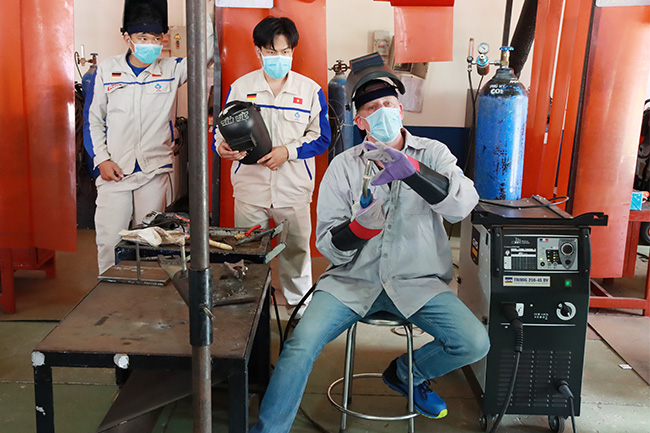 Experts guide students to practice welding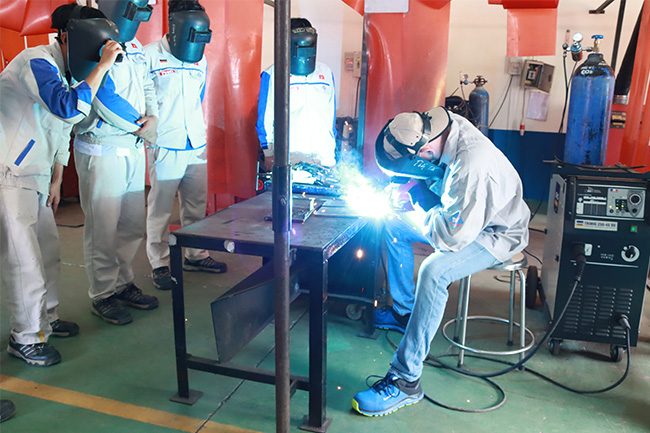 Experts guide students to practice welding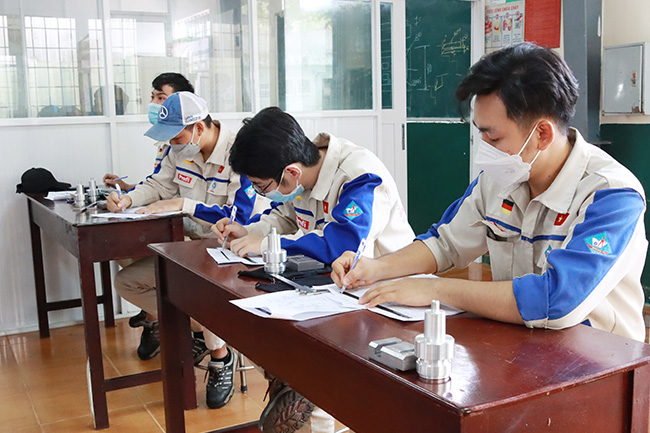 Students cross-review the exam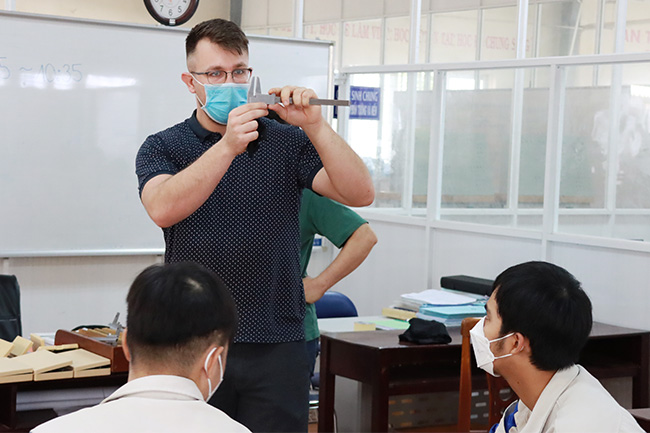 Expert guides students to use measuring tools