Evaluating the quality of vocational training programs in Industrial Electrical at college level at BCTECH
Date Submitted: 12/12/2020
On December 11, 2020, the external evaluation team of Vietnam Education Accreditation and Consulting Joint Stock Company (VTEC) held the closing ceremony of the external assessment of the quality of the vocational training program in Industrial Electrical, college level. at Ba Ria – Vung Tau College of Technology (BCTECH).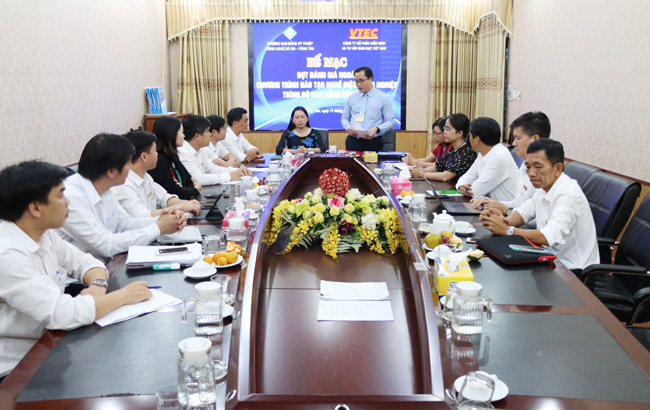 Overview of the closing ceremony
During 05 working days at the school from December 7 to December 11, the external assessment team examined the self-assessment results report and supporting documents provided by the Program Quality Self-Assessment Council. BCTECH's training program to verify the conformity between the content of the report on the results of the self-assessment of the training program quality with relevant evidences. In addition to the time to directly check the documentation and related documents mentioned above, during 05 working days at BCTECH, the external assessment team conducted surveys, timekeeping, and interviews to collect relevant information. service for the appraisal of reports on the results of self-assessment of the quality of vocational training programs in industrial electrical engineering at college level.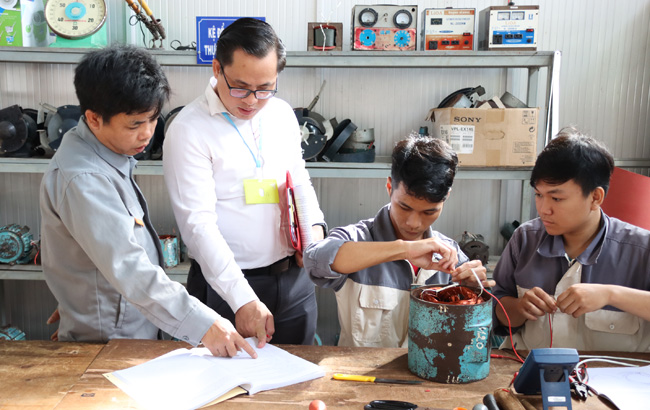 The delegation attended the assessment of the industrial electrical training lesson
According to the draft report on the results of external assessment, BCTECH's industrial electrical training program has outstanding strengths such as: The objectives of the training program are consistent with the objectives of the training institution and labor market demand, publicly announced and reviewed and adjusted according to regulations; the school performed well in enrollment, in three years the school's enrollment volume always reached the set target; well coordinate with the employing unit in organizing practical instruction for trainees at the company, enterprise or employer; 100% of management staff and teachers participating in teaching meet professional and professional standards according to regulations and complete assigned tasks; textbooks are compiled, evaluated and updated according to regulations; machinery and equipment of good quality, meeting technical and technological standards; well serve the vocational training of industrial electricity; Employers are satisfied with the knowledge, skills and attitudes of graduates working at the employer.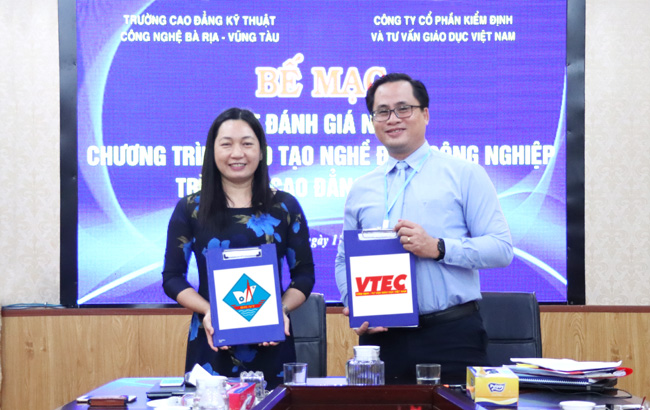 Ms. Truong Huynh Nhu, Rector of the school and Mr. Phan Van Nam, Head of the evaluation team signed the meeting minutes on the draft report on the results of external assessment of the quality of TVET institutions at BCTECH
The delegation also had some recommendations for the school such as: the school continues to review and adjust the training program objectives to be more and more suitable with the development trend of technology; with the increasing practical needs of businesses, workers and society; continue to invest in upgrading facilities, information technology infrastructure and equipment to meet the requirements of vocational training in Industrial Electrical as well as key occupations at international and Asean levels.
The school leaders agreed with the delegation's assessment of the strengths, shortcomings and recommendations of the delegation, and at the same time absorbed and soon overcome the shortcomings to improve the quality of the school's activities.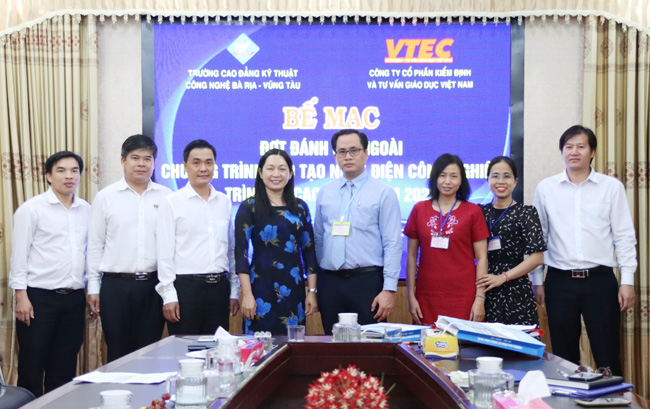 The School Board of Directors took a souvenir photo with the evaluation team