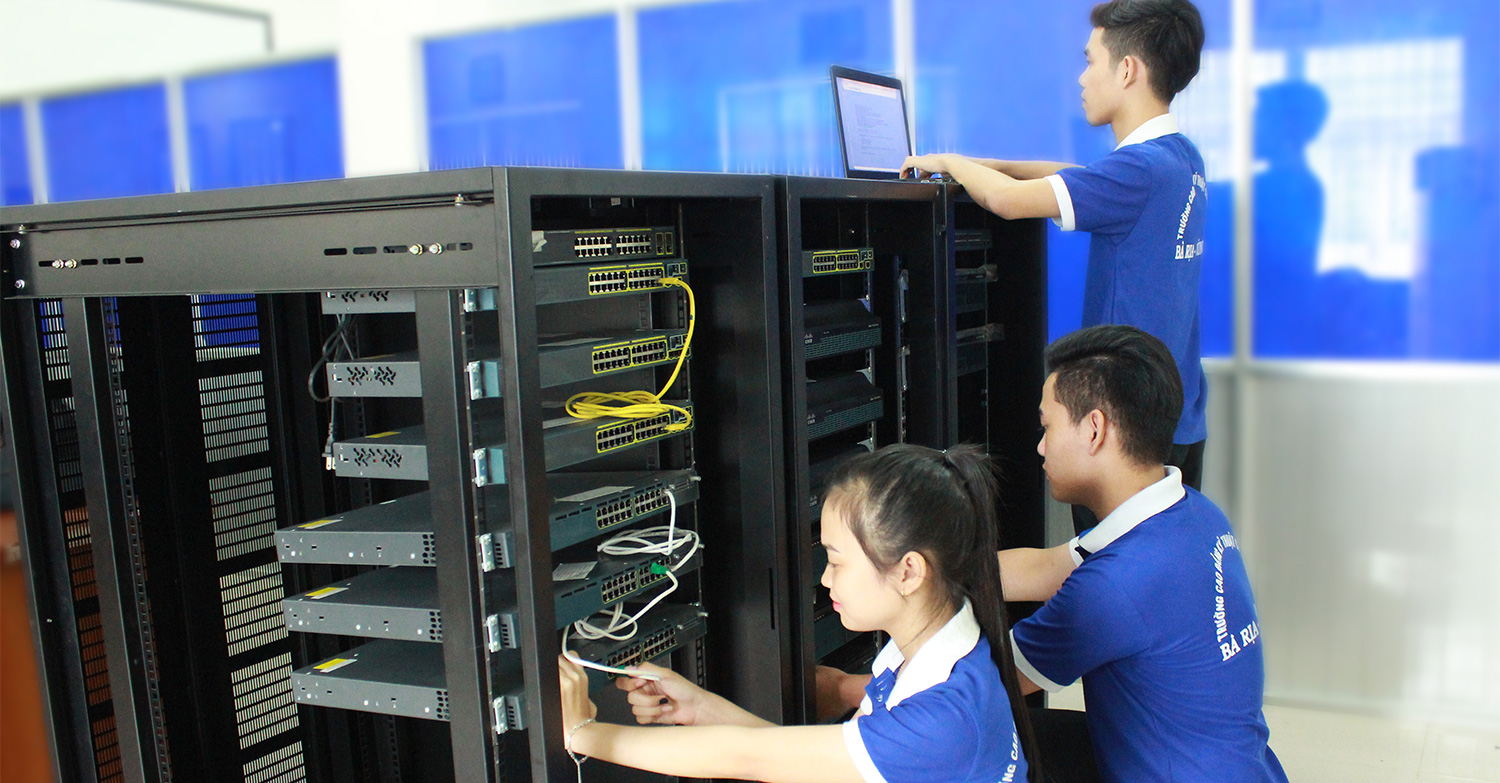 COLLEGE DEGREE
Job Code: 6480210
Training time: 3 years (6 semesters)
Forms of training: Formal
Admission form: Admission
Enrollment object: High school graduate or equivalent
Tuition: 18,700,000 VND/school year (10 months)
INTERMEDIATE
Job Code: 5480210
Training time: 2 years (4 semesters)
Forms of training: Formal
Admission form: Admission
Enrollment object: High school graduate or higher or equivalent
Tuition: Free tuition for students graduating from secondary school to continue to high school
Today, any company, agency, or organization must have a computer network to work. Therefore, each organization needs to have personnel to administer the computer network system. In Vietnam, a large-scale information technology application enterprise such as a bank, insurance company, airline, e-commerce, etc. needs to have a network administration department with a staff of several tens or even hundreds of people. , medium enterprises need about 4-5 people. Small businesses also need at least one person in charge of the network.
Due to the explosive development of the information technology industry and the high demand of businesses, the number of personnel studying the network industry is quite large. The peculiarity of the information technology industry is that new technologies change at a rapid pace, and the computer network industry is no exception. In recent years, the number of students studying this major is very large, but to follow this major to the end is not something that every student can do.
Design, build and deploy network systems for small and medium businesses.

Install, configure and administer network systems using server operating systems.

Install, configure and administer services: DNS, DHCP, RRAS, Web, Mail.

Correctly configure common network devices: Switch, Router,…

Assess the security system, data encryption.

Building and deploying a firewall system to protect the network.

Maintain, repair and upgrade network software and hardware.

Build simple applications on the network.

Evaluation and selection of wireless network equipment.

Maintenance and troubleshooting of wireless network systems.
Network Administrator: design and

construct

computer network system, fix problems that the network system encounters.

Network Security Specialist: Design security for the network so that it is safe to prevent hackers from breaking in and stealing data.

Network/Systems Analyst.

Technical Support.

Network maintenance specialist.