BR-VT College of Technology: Dual benefits with a vocational study abroad program in Korea
Date Submitted: 12/10/2021
In recent years, Vietnamese students and students (HSSV) choosing a study environment at universities in Korea has become increasingly popular, with opportunities to study and work with good income in Korea as well. like coming home.
To meet this need of students, Ba Ria – Vung Tau College of Technology (BCTECH) recently linked with Daegu University in Korea, acting as a "bridge" for students of the school to have access to the environment. international education schools, as well as opening up job opportunities after graduation can be up to 17 million-20 million VND/month or more.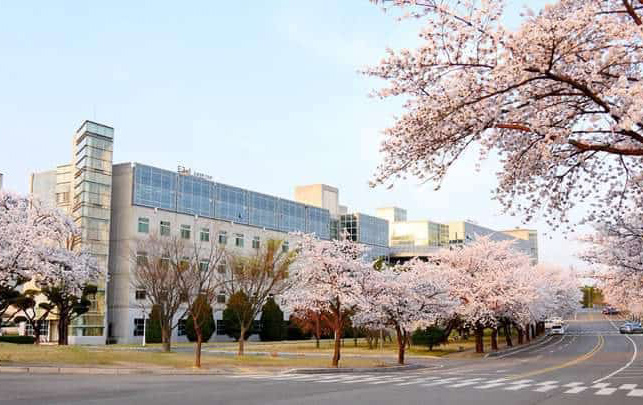 Daegu University – The top quality university in Korea
Daegu University- Korea's top quality welcomes Vietnamese students
Having been ordered by many businesses to train high-quality human resources, Ba Ria – Vung Tau College of Technology is a "red address" for students and businesses to find. In fact, Korean businesses in Vietnam have satisfactory salaries for important positions, with an average of 800-1000 USD/month.
Sharing with a reporter from Career and Life Magazine, Master Truong Huynh Nhu – Rector of Ba Ria – Vung Tau College of Technology said that most of the school's students after graduation can meet the needs of businesses. Korean enterprises in particular as well as foreign enterprises in general.
Recently, a series of projects of Korean enterprises will prepare to pour investment capital into Ba Ria – Vung Tau. In Ba Ria – Vung Tau province alone, there have been 58 Korean projects invested with a total capital of nearly 5 billion USD. These are FDI enterprises, also strategic investors of Ba Ria-Vung Tau province. Projects along the coast of Vung Tau, Long Hai, Xuyen Moc… will require a large amount of high-quality human resources.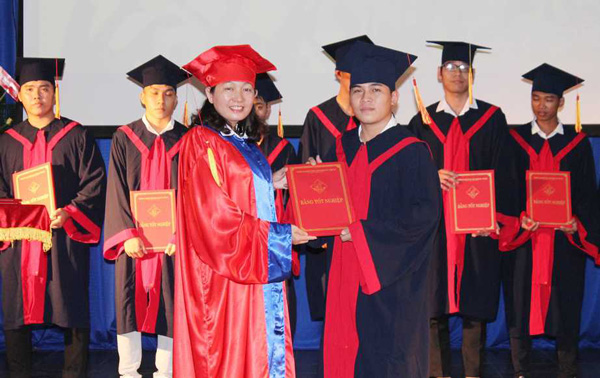 Master Truong Huynh Nhu- Rector of the University awarded the diploma to the students
The cooperation between Ba Ria – Vung Tau College of Technology and Daegu University will open up opportunities to learn and develop Korean through the Korean Study Abroad program, while developing professional skills in the profession. Karma. Having these skills, graduates have many advantages, easy to apply for jobs in Korean enterprises with high income; many opportunities for business cooperation, self-employment such as: travel services, trading, import and export, restaurants and many other services.
Daegu University is the name of the city of Daegu, ranked 3rd out of 7 cities directly under the central government of Korea. The school was established in 1956, is considered as the first university level training in Korea. The training here is closely linked between academic knowledge, technology and practical applications in specialized teaching.
Deagu University is famous for its multidisciplinary and multi-disciplinary training with majors in: Languages, Law, Business Administration, Information Technology, Engineering, Public Relations, Art and Design, Education , Healthcare, Information Technology, Electrical, Mechanical, Food, Fashion, Automotive Technology…, with Korea's top quality, 100% of graduates have jobs.
Learning Korean will not be too difficult for Vietnamese students, it only takes 6 months to 1 year to reach Topik 3 to communicate and have good translation skills. The cost of studying abroad is reasonable, many opportunities to work part-time to earn income, reduce the cost burden for the family.
Model of Vietnam-Korea Cultural Exchange Center at BCTECH for students to learn Korean culture and learn Korean
In order to create favorable conditions for students to have this great learning opportunity, Ba Ria – Vung Tau College of Technology has established a Center for Cultural Exchange between Vietnam and Korea at campus 1 of BCTECH. Here, students will be able to participate, learn about Korean culture and learn Korean to help them who want to study abroad at Daegu University to shorten their language learning time in Korea. If they achieve Topik 3 in Vietnam, they will be exempted from learning Korean for a year in Korea. At the same time, it also increases the opportunity to have a better job position, better income when being recruited and working at Korean enterprises in Vietnam right after graduating from BCTECH.
Dual benefits with the Korean Study Abroad program at Daegu University
Ba Ria – Vung Tau College of Technology is a place to provide high-quality human resources with both good professional skills, soft skills, and foreign language skills for domestic and foreign businesses, especially those Korean enterprises in Ba Ria-Vung Tau. Rector Truong Huynh Nhu said: "The opportunity to study a job in Korea in Korea at Daegu University provides young people with wide career opportunities in the future to stay and work in Korea or return to Vietnam. The school connects jobs at Korean businesses in Vietnam".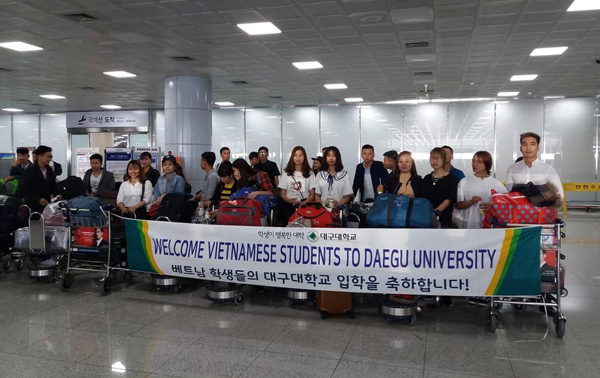 Daegu University Korea – where many Vietnamese students choose opportunities to study and develop
Studying abroad at Daegu University, students will be proficiently trained in Korean language, knowledge and culture; equipped with baggage and integration skills before working in Korean enterprises. For students who have graduated from BCTECH College, they can transfer to university, saving a lot of money and time to major in Daegu; At the same time, they have the opportunity to be introduced to suitable part-time jobs during their studies in Korea with a salary of $1,200-1,500/month.
In addition, students also have many opportunities to receive scholarships from Daegu University. After graduating in Korea, you have the opportunity to convert to an E7 visa for a long-term settlement with a salary of 2,000 – 3,000 USD/month and enjoy the same welfare regimes as a native.
Best of all, when students finish studying at Daegu University, if they want to return to Vietnam, they will be introduced to jobs by ABC Vietnam company in the right training majors at major Korean corporations such as: Samsung, LG , Hyundai, Hanwha… with a salary of 1,500 USD or more.