BR-VT College of Technology: Continuing to innovate and improve training quality
Date Submitted: 21/11/2021
Last weekend, BR-VT College of Technology held the Opening Ceremony of the school year 2021-2022 and the 39th Anniversary of Vietnamese Teachers' Day (November 20, 1982 – November 20, 2021) in the form of directly at campus 2 (Ward 11, Vung Tau City) and online by broadcasting live on the school's YouTube channel "BCTECH Channel".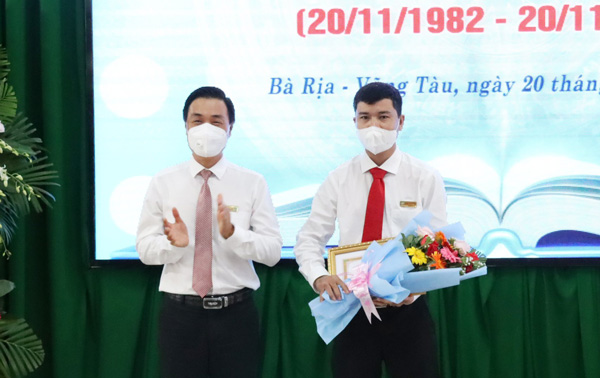 Mr. Ngo Xuan Khoat, Secretary of the Party Committee, Chairman of the School Council awarded the Certificate of Merit to Mr. Nguyen Thanh Thao, the teacher who had just won the First Prize of the Vocational Education Educator Conference in 2021
According to the school's leaders, the school year 2021-2022, the whole school has 3,200 students, of which 1,570 students have just enrolled. In the new school year, the school continues to invest in modern facilities and equipment, innovate and improve the quality of training, expand the scale of professions to meet the needs of high-quality human resources for students. industrial zones of BR-VT province as well as domestic and foreign enterprises. Along with that, the school will strengthen international cooperation to exchange experiences, improve knowledge, develop practical skills according to regional and world standards for its staff, lecturers and students; and at the same time develop a roadmap to carry out training according to orders, training in combination with production.
On this occasion, under the authorization of the Provincial People's Committee, the School Board of Directors awarded the title of Provincial Emulation Fighter to 2 individuals, and awarded Certificates of Merit to 3 teams and 6 individuals with outstanding achievements in their work. . The school also presented Certificates of Merit to 5 individuals who achieved excellent results at the National Conference of Vocational Educators in 2021 and a skills contest organized by the Russian Federation, 1 individual with many achievements in the field of education and training. , against the COVID-19 epidemic…
Last school year 2020-2021, BR-VT College of Technology has invested in modern facilities and equipment for teaching. Not only that, the school also reviewed and adjusted the training program in accordance with the requirements of enterprises, increased the time for practical learning (accounting for 60-70% of the program's duration), introduced technical soft skills, occupational safety techniques, 5S, foreign languages (English, Japanese) and international standard informatics into the training program. Along with that is the compilation of exam questions to assess vocational skills between the course and the end of the course for students.
Due to the impact of the epidemic, from May 2021 until now, the school has allowed students to temporarily stop going to school and switch to online teaching and learning. Although this teaching method is still difficult, the school has completed the school year plan, considered and recognized the graduation for 538 students. The percentage of students who have a job within 6 months after graduating is 93.6%.
In addition, the school also achieved outstanding achievements in competitions, typically 1 first prize, 2 encouragement prizes at the National Association of Vocational Education Teachers, 1 third prize in the International Skills Competition. , 1 topic was selected to participate in the final round of the contest "Startup ideas for students and students" Startup Kite in 2021 organized by the General Department of Vocational Education and Training, 1 contest "Designing for online teaching" was entered. National Finals…
In addition, to improve training quality, the school has cooperated with Chisholm Academy of Australia, AVESTOS Training Group of Germany to organize training according to the transferred international program; At the same time, it cooperates with Daegu University (Korea) to receive graduate students at the transfer school for an inter-university program…
Ba Ria – Vung Tau Newspaper