BCTech and Chisholm Institute cooperate to train international standards for Australian degrees
Date Submitted: 06/08/2022
On the morning of August 5, 2022, a representative of Chisolm Academy (Australia) came to work and awarded the certificate of educational cooperation on vocational training in Mechatronics at the international level for Ba Ria – Vung Tau College of Technology (BCTech).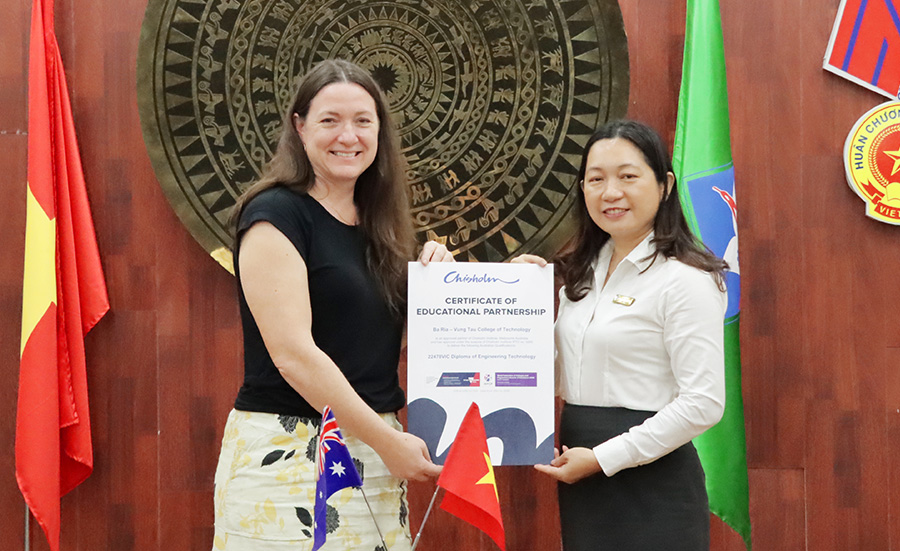 Ms. Jennie Dehn, International Project Director of Chisholm Academy (Australia) awarded the certificate of educational cooperation to Ms. Truong Huynh Nhu, Rector of Ba Ria – Vung Tau College of Technology
In 2020, Ba Ria – Vung Tau College of Technology completed a pilot training course in mechatronics at the international level under the program transferred from Chisholm Institute (Victoria, Australia). ) with a total of 20 students and 100% of graduates all have stable jobs with high incomes at large enterprises inside and outside the province.
In order to continue to promote the training of high-quality human resources, meeting international standards for the socio-economic development of Ba Ria – Vung Tau province, with the permission of the General Department of Vocational Education and Training, in In 2022, Ba Ria – Vung Tau College of Technology in association with Chisholm Institute (Australia) continues to organize enrollment and vocational training for mechatronics at the international level under the transfer program from Australia's Chisholm Academy with a total quota of 40 students (2 classes).
When enrolled in this program, graduates are awarded two degrees (a Diploma of Engineering Technology awarded by Chisholm Institute and an Associate degree from Ba Ria – Vung Tau College of Technology); students are studying in a modern environment, with Australian standards such as: programs, textbooks and learning materials are transferred from Australia; a team of lecturers with Australian standards, professional skills and pedagogical skills (trained and fostered in Australia); facilities and training equipment are invested in modern Australian standards; especially during the training process, lecturers from Chisholm Academy periodically come to directly guide, supervise and evaluate the quality of training according to Australian standards.
Students can learn English with foreign teachers and meet English proficiency standards at level B1 according to the Common European Framework of Reference for Foreign Languages (CEFR), trained in thinking and professional manners; Graduates are given priority to introduce jobs at large domestic and foreign enterprises with high income. If you meet the financial and English requirements, you will be able to go to Australia to continue studying at Chisholm Institute and universities in Australia.
In the afternoon of the same day, Ba Ria – Vung Tau College of Technology held a consultation session on admission to an Australian degree cooperation program in the form of live combined with livestream. The program received a lot of attention and questions from parents and students inside and outside the province.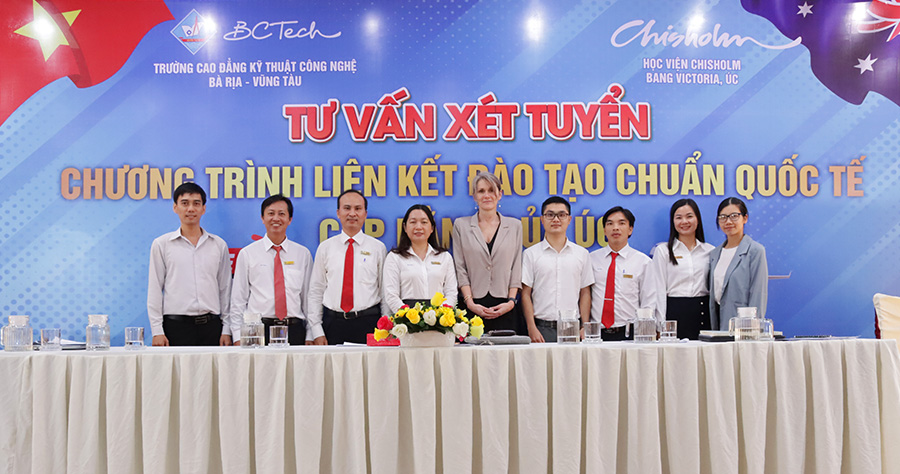 Ms. Jasmine Swain, Professional Director of International Projects (middle) participates in the recruitment consultation for the Australian degree cooperation program
Chisholm Academy is a government owned TAFE organization that is Victoria's leading public vocational training institute, known and recognized throughout Melbourne. Chisholm Institute offers more than 250 certificates, diplomas, advanced diplomas, bachelor's degrees and postgraduate certificates, with each course carefully structured to ensure that all of its students complete the skills. skills necessary to achieve the desired success.

Chisholm prides itself on achievement and quality in education and training. Therefore, the degree awarded by Chisholm Institute is valid worldwide.