After graduating from a vocational school, it is easy to find a job with a good income
Date Submitted: 05/07/2021
The labor market of BR-VT in recent years has been in high demand for recruitment in a number of professions such as welding, metal cutting, mold making, mechatronics, refrigeration, etc. For middle school and high school students who want to According to vocational training, grasping the needs of the market is an important factor to choose the right job that is easy to find a job.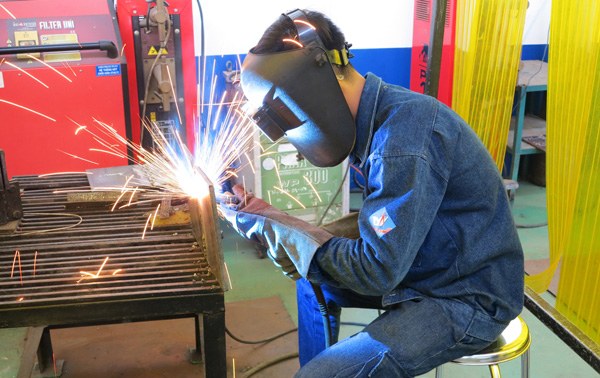 Students of BR-VT College of Technology practice welding
WELCOME TO RECRUITERS
Mr. Vo Van Thuan, Vice Rector of BR-VT College of Technology, said that in recent years, groups of professions in the field of engineering and technology such as mechanics, electricity, mechatronics, engineering information technology… always has a huge demand for human resources, especially human resources directly in production with intermediate and college degrees. For example, at BR-VT College of Technology, students study welding, metal cutting, mold making, mechatronics, graphic design, industrial electricity, and information technology. Always sought after by employers. Enterprises come to the school to order and recruit right after students have not graduated.
Ms. Dang Ngoc Linh, Human Resources Department, Kraft of Asia Paperboard & Packaging Co., Ltd. said: "The company needs human resources in many fields, including mechanics, mechatronics… However, the recruitment conditions are: qualified, well-trained and qualified workers in Japanese. That is also the reason for many years now, the company has placed an order to recruit students from BR-VT College of Technology. Students who wish to work at the Company after graduation will be supported to learn Japanese, specialized knowledge, facilitate internships at the Company… As soon as they graduate from school, these students do not have to worry about output. after graduating from school because I have basically met the job requirements".
According to data from the Employment Service Center (DOLISA), the recruitment demand of enterprises in 2020 is about 21,538 people. In which, the groups of Mechanics – Automation, Electronics – Mechatronics, Electrical – Refrigeration – Industrial Electrical are 3,596 people. Forecasting the human resource demand of BR-VT province in 2021, the occupational groups in Mechanical – Automation, Electronics – Mechatronics, Electrical – Refrigeration – Industrial electricity have a demand of about 4,070 people and will probably continued to increase in the following years.
According to the survey results at BR-VT College of Technology, many occupations have 100% employment rate such as mechatronics, welding, mechanical equipment manufacturing. Even in this period, despite being affected by the COVID-19 epidemic, many businesses still send recruitment notices to the school, but the school does not have enough human resources to supply. According to Mr. Vo Van Thuan, from the beginning of the year until now, many enterprises such as Kraft of Asia Paperboard & Packaging Co., Ltd (located in Phu My 3 Industrial Park) with 100% investment capital from Japan, Sonion Vietnam Co., Ltd. II (100% Danish investment), POSCO Vietnam Co., Ltd. under POSCO Group (Korea), TPP Technology and Development Joint Stock Company… have contacted the university to recruit hundreds of positions. such as mechanical engineering, mechatronics, mold making, industrial electricity, electrical engineering, automation with starting salary from 7 to 18 million VND/month.
Mr. Nguyen Van Bien, Director of Cool Global Industrial Refrigeration Manufacturing and Service Company (Vung Tau City) said, currently, refrigeration is one of the industries that are in great demand for human resources. However, compared to unskilled workers, trained workers at vocational education institutions have more choices. Having both professional skills, good general knowledge, and a degree, students of vocational schools can work for businesses or start their own businesses. As a former student of BR-VT College of Engineering and Technology, Mr. Bien said that after about 5 years of working for businesses, in 2013, he opened his own refrigeration repair shop, in 2016 he established a company. private. Currently, the company's revenue is about 7 billion VND/year.
SEARCH HUMAN RESOURCES IN THE US
Although these are industries with great recruitment demand, in fact, the labor force in these industries is in a state of scarcity. Explaining the situation of "thirst" for human resources in a number of industries such as mechanics, electricity, refrigeration, automation, etc., Mr. Vo Van Thuan said, BR-VT is a province in the southern key economic region, with high speed. high economic growth and maintained continuously for many years. The province has 15 industrial zones, very developed industries such as: oil and gas, electricity, fertilizer, steel, shipbuilding, tourism, seaport… Especially BR-VT has hundreds of projects and factories in operation. Working in the fields of mechanics, electricity, automation, metal cutting, information technology, etc., there is a need to recruit tens of thousands of trained workers every year.
According to Mr. Thuan, another reason why many professions are "thirsty" for human resources is that learners have not properly recognized the needs and development trends of these disciplines. Learners are often afraid to choose to study professions in mechanics, welding, electricity, automation… because of the fear of working hard, hard, and toxic environment. However, now, with the development of techniques and technology, many modern tools, machines and technologies have been applied to help people work more smoothly and gently in the above industries.
In the academic year 2021, BR-VT College of Technology enrolls 18 students at the college and intermediate level by means of academic transcripts. The total enrollment target is 1,470 students, of which 535 students are enrolled in colleges and 935 in intermediate schools. The enrollment period includes 3 phases: Phase 1 from July 1 to 30, Phase 2 from August 1 to August 30, and Phase 3 from September 1 to September 30.

Candidates can choose to apply in person (or by post) at the school's admissions offices or submit an online application at Website: https://dangkyonline.bctech. edu.vn/. Students graduating from middle school are exempted from 100% of vocational training fees. Students attending college in the professions: Welding, Metal Cutting, Mechanical Equipment Manufacturing will receive a 70% discount on tuition fees.
Mr. Thuan added, grasping the demand for human resources, in 2021, BR-VT College of Technology enrolls 18 occupations at intermediate and college levels, most of which are in demand. great. In which, the Mechanical-Electrical group includes 9 occupations with 900 targets, accounting for 61.2% of the total enrollment target; Information technology group includes 3 occupations with 295 targets, accounting for 20.1% of the total enrollment target. Eligible subjects are high school graduates or equivalent for college level and students graduating from junior high school with associate's college or high school diploma. Mr. Thuan emphasized, training majors in Mechanics, Electrical, Information Technology is the strength of the school. The school's training program is always updated to suit the requirements of enterprises, the practice rate accounts for 70% of the time, the training facilities and equipment are modernly invested in accordance with reality. The school also cooperates with businesses to organize for students to practice, practice and commit to creating jobs for students after graduation.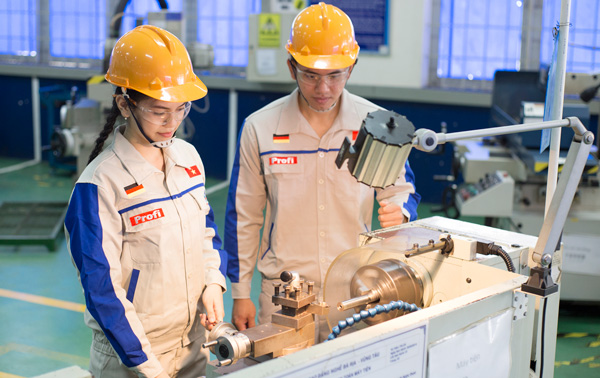 Students of BR-VT College of Technology practice metal cutting
Source: Ba Ria – Vung Tau Newspaper